KCFY Announcements
---
Back to KCFY Announcements
AN EVENING WITH MARK GREGSTON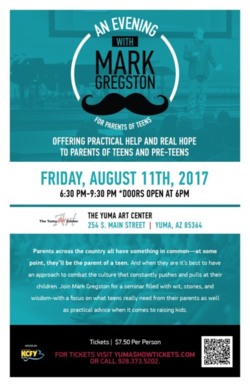 Please join us for An Evening with Mark Gregston, offering practical help and real hope to parents of teens and pre-teens.
FRIDAY, AUGUST 11TH, 2017
6:30 PM to 9:30 PM
The Yuma Art Center
254 S. Main Street

Tickets are $7.50 per person available at The Yuma Art Center or online at www.yumashowtickets.com or you can call 928-373-5202.
Parents across the country all have something in common--at some point, they'll be the parent of a teen. And when they are it's best to have an approach to combat the culture that constantly pushes and pulls at their children. Join Mark Gregston for a seminar filled with wit, stories, and wisdom-with a focus on what teens really need from their parents as well as practical advice when it comes to raising kids.