The Glow Morning Show
---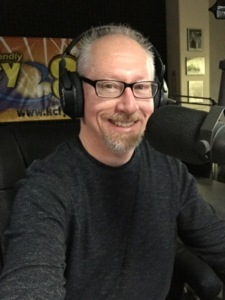 GOOD MORNING TO YOU!!!
I count it a great privilege to be on the air every morning!  I mean, let's face it, I've got a pretty important job to do each day here on the Glow Morning Show.....I've got to get you up!
Not only that, but I want to help you start your day the right way.  I start with great music to inspire and encourage you.  Then I get into God's Word and pray with you.  We hit some great topics, give away amazing prizes and laugh at every opportunity!
Yes its BIG job but somebody's got to do it...I'm just glad I get to!
HEARTLIGHT VERSE, THOUGHT & PRAYER -3/23/17 
All who rely on observing the law are under a curse, for it is written: "Cursed is everyone who does not continue to do everything written in the Book of the Law." Clearly no one is justified before God by the law, because, "The righteous will live by faith." — Galatians 3:10-11
Thought: Thankfully, God provided us the Sacrifice that makes us righteous and pays for our sins, because none of us keeps God's Law perfectly. In his boundless grace, God sent Jesus to do what we cannot do: live a perfect life and offer himself as the perfect sacrifice for our sins. We don't have to live under law trying to earn our perfection and God's acceptance. Instead, we live "by faith," trusting that God will look at us through Christ's perfection and not our imperfection, judge us based on Jesus' holiness and not our transgressions, and view us through the Son's righteousness and not our unrighteousness. In this way, we fulfill the righteousness requirements of the Law, without having to be bound to the "curse of the law."
Prayer: Almighty and Most Holy God, thank you for your plan of grace that has brought me back from sin and death, and given me a way to live victoriously for you. Thank you, dear Father, for Jesus and his awesome and holy life, and his generous and loving sacrifice for my sins. May the words I say, and the way I live, show that your grace has captured my heart and that true faith in Jesus has changed my life. In Jesus' name I pray. Amen.
The Thoughts and Prayers for Today's Verse are written by Phil Ware. You can email questions or comments to phil@heartlight.org.
---
4 Success Tips for Going on a Date with Your Daughter - 3/22/17
by Dr. Joe Martin

It's challenging being the father of a daughter. But even more challenging when you're the father of a 14-year-old stepdaughter.  My stepdaughter Faythe's biological father abandoned her when she was only 6 years old, and it shattered her tender heart into a million pieces.  So when I married her mom, she had very little trust for men.  And now I was considered the new man on the block who was stealing her mom's attention and affection.
However, I knew I wasn't going to get anywhere with Faythe until I was able to earn her trust and win her heart.  And I accomplished this by regularly taking her out on daddy-daughter dates. I must confess, I had no idea how to go about dating my daughter until my mentor, a father of five boys and three girls, gave me some advice that not only transformed my relationship with my now 14-year-old stepdaughter but ultimately earned me the right to be called her "Daddy." For Dads looking for the perfect night out with their daughter, here are four things to remember.
1. Make it safe.
Make sure your daughter knows she can share anything with you and you won't criticize or be angry with her when she does. This is critical in building trust and learning her heart.  Personally, I try to pretend I'm Faythe's wise friend, not her worried dad.
2. Learn to ask questions.
You can't win your daughter's heart if you don't know what's going on in her heart. [Tweet This]  Having been an educator for more than 23 years, I've learned the art of asking children open-ended questions and following up to learn more.  Here are just a few questions you can ask your daughter to get the conversation started:
What's made you the happiest (been the most fun) at school this past week?
What's been the latest drama at school?
What's gotten you angry or upset recently?
What have you been struggling with lately?
What's coming up soon that you're really excited about?
3. Make it mostly about her.
Your actions with your daughter will always speak louder than your words.  So resist doing most of the talking by doing most of the listening.  The more your daughter talks, the more you'll learn; so keep the focus and spotlight on her as much as possible.  This will also make her feel valuable and loved.
4. Speak a building block of truth into her life.
During the date, always try to speak something positive into your daughter's future that affirms, encourages, and reminds her of her value.  For instance, "You're growing into a beautiful young woman, and some man is going to be so lucky to marry you someday."
And just for good measure, I personally end every daddy-daughter date by holding Faythe's hand and praying over what we've talked about during our date.  And I try to keep the prayer short and just about her.
I truly believe, if you do these four simple things during your daddy-daughter dates, not only will you earn your daughter's trust and win her heart, you'll also set a high standard for any man who tries to do the same in the future.
---
7 ANCHORS FOR THE CHRISTIAN LIFE - 3/21/17
stay anchored in SCRIPTURE
To keep each thought captive!
2 Cor 10:5
stay anchored in OBEDIENCE
To keep from being enslaved to sin!
Gal 3:1
stay anchored in SURRENDER
To keep yielded to the will of God!
I Thess 5:16-18
stay anchored in DISCIPLINE
To keep vigilant in my faith!
I Pet 5:8
stay anchored in HUMILITY
To keep God the Lord of my life!
Jn 3:30
stay anchored in FAITHFULNESS
To keep fulfilling my God-given purpose!
Lk 19:17
stay anchored in the SAVIOR
To keep from focusing on earthly distractions!
Heb 12:2

---
TOP NINE SIGNS YOU'RE A TREKKIE - 3/23/17
Saying "make it so" in casual conversation.

Indignation because the periodic table doesn't include dilithium and tritanium.

Able to use "variable phase inverter" in a sentence without excessive thought first.

You have figured out the StarDate system.

You keep forgetting that present-day elevators don't have a voice interface.

You understand the Klingon language.

You've lectured any science professor on how transporters work.

The Star Trek theme becomes background music for your dreams.

You have more than one pair of Spock ears in junk drawer.