The Glow Morning Show
---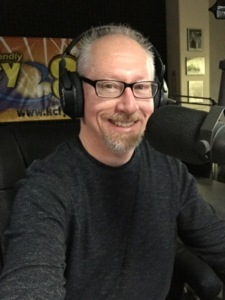 GOOD MORNING TO YOU!!!
I count it a great privilege to be on the air every morning!  I mean, let's face it, I've got a pretty important job to do each day here on the Glow Morning Show.....I've got to get you up!
Not only that, but I want to help you start your day the right way.  I start with great music to inspire and encourage you.  Then I get into God's Word and pray with you.  We hit some great topics, give away amazing prizes and laugh at every opportunity!
Yes its BIG job but somebody's got to do it...I'm just glad I get to!
HEARTLIGHT VERSE, THOUGHT & PRAYER - 2/16/17 
My dear children, I write this to you so that you will not sin. But if anybody does sin, we have one who speaks to the Father in our defense — Jesus Christ, the Righteous One. He is the atoning sacrifice for our sins, and not only for ours but also for the sins of the whole world. — 1 John 2:1-2
Thought: John wants to prevent even one sinful event in the lives of those he loves. He is concerned because he knows that even one sinful event can be used by Satan to discourage and defeat us. We need to know that we have a Savior and a defender. He paid the price to redeem us, he sent his Spirit to help us overcome sin's power, and he will speak to the Father and claim that right to forgive us.
Prayer: Father, I'm embarrassed by my weakness and vulnerability when I sin. Even in those moments of shame, I'm thankful that Jesus provided me the way back into your holy presence. Jesus, I thank you for coming to my rescue and my defense. I will not let Satan discourage me when I fall. Instead, I re-commit myself to live with your character and for your glory. In your name, Lord Jesus, my defender, I pray. Amen.
---
6 Short Sentences Your Child Needs to Hear You Say
In raising our five children, Susan and I have tried to consistently convey to each of them these 6 short sentences. We've done it with our words and our actions. And, as I write this post, I'm realizing I need to say these things even more because they can't be said enough.
Saying these six short sentences will give your child a strong sense of security, identity, belonging, and value.
1. "I'm here for you."
Being available for your child is incredibly important. They may not need you when you tell them this, but they'll remember you promised to be available to them when they need you the most. This sentence is more than just giving them permission to find you when the going gets rough…it's an invitation to them. It tells them, "I will do whatever I can to help you whenever you need me."
2. "I'm proud of you."
Some middle-aged men I've talked to have never heard, or have waited years to hear, their dad say "I'm proud of you."  And many of them thought if they just performed better, if they just made it big in sports, or if they just had a thriving money-making career, their dad just might notice. Ladies and gentlemen, please don't make your kids wait. Tell them today.
3. "I believe in you."
Remember back to your teen and early adult years?  How confident were you in yourself? And how confident are you today in yourself? Self-doubt and second-guessing come with the territory of being human. And you can be a great source of support to your child through these struggles. Your child needs to know that somebody somewhere in this world believes in them and their immeasurable value. [Tweet This]
4. "I want the best for you."
This sentence has a couple of benefits. First, it tells your child that you have a purpose behind your parenting. They may not understand how you see "what's best" and they may not even agree with you, but they will hopefully start to appreciate it over time as they see you working hard to do what's in their best interests. I have often said to each of my kids, "I'm doing this or saying this because I always have your best interests at heart." And they know they can always trust me. Second, it puts you in their corner. Again, they may not always see how your ideas, your standards, or your consequences are really for their benefit, but giving them this regular reminder at least assures them, in the depths of their heart, that you are for them, not against them.
5. "I will stand with you."
I saw a video recently of a dad dancing with his daughter at a talent show. The girl had a severe and rare disorder that keeps her from having almost any muscle tone, control, or physical abilities of her own. But as her dad picked her up out of her chair and danced around the stage, her nearly inexpressive face suddenly blossomed with a huge smile. This girl knows that her dad is willing to risk embarrassment, harassment, or scorn from any person in order to be counted with her. This sentence tells your child that you are willing to be identified with them even when they've made a mistake or have to do hard things.
6. "I love you."
This is, quite simply, a sentence that cannot be said too many times. Big family moment?  "I love you." Quiet and quick goodnight? "I love you." Dropping them off at school or a job? "I love you." Just for no particular reason at all in the middle of the day? "I love you."
---
The Refining Process - 2/9/17 
Some time ago, a few ladies met in a certain city to study the scriptures. While reading the third chapter of Malachi, they came upon a remarkable expression in the third verse:
"And He shall sit as a refiner and purifier of silver." Malachi 3:3
One lady proposed to visit a silversmith, and report to them on what he said about the subject. She went accordingly, and without telling the object of her errand, begged the silversmith to tell her about the process of refining silver.
After he had fully described it to her, she asked, "But Sir, do you sit while the work of refining is going on?"
"Oh, yes madam," replied the silversmith; "I must sit with my eyes steadily fixed on the furnace, for if the time necessary for refining be exceeded in the slightest degree, the silver will be injured."
The lady at once saw the beauty, and comfort too, of the expression, "He shall sit as a refiner and purifier of silver.". God sees it needful to put His children into a furnace; His eye is steadily intent on the work of purifying, and His wisdom and love are both engaged in the best manner for us.
Our trials do not come at random, and He will not let us be tested beyond what we can endure.
Before she left, the lady asked one final question, "When do you know the process is complete?"
"Why, that is quite simple," replied the silversmith. "When I can see my own image in the silver, the refining process is finished."
---
 HOW TO KNOW WHEN YOU'RE READY FOR PARENTHOOD
MESS TEST: Smear peanut butter on the sofa and curtains. Now rub your hands in the wet flower bed and rub on the walls. Cover the stains with crayons. Place a fish stick behind the couch and leave it there all summer.

TOY TEST: Obtain a 55-gallon box of LEGOs. (If LEGOs are not available, you may substitute roofing tacks or broken bottles.) Have a friend spread them all over the house. Put on a blindfold. Try to walk to the bathroom or kitchen. Do not scream (this could wake a child at night).

GROCERY STORE TEST: Borrow one or two small animals (goats are best) and take them with you as you shop at the grocery store. Always keep them in sight and pay for anything they eat or damage.

DRESSING TEST: Obtain one large, unhappy, live octopus. Stuff it into a small net bag making sure that all arms stay inside.

FEEDING TEST: Obtain a large plastic milk jug. Fill it halfway with water. Suspend from the ceiling with a stout cord. Get the jug swinging. Try to insert spoonfuls of soggy cereal (such as Fruit Loops or Cheerios) into the mouth of the jug while pretending to be an airplane. Now dump the contents of the jug on the floor.

NIGHT TEST: Prepare by obtaining a small cloth bag and fill it with 8 to 12 pounds of sand. Soak it thoroughly in water. At 8 PM begin to waltz and hum with the bag until 9 PM. Lay down your bag and set your alarm for 10:00 PM. Get up, pick up your bag, and sing every song you have ever heard. Make up about a dozen more and sing them until 4:00 AM. Set alarm for 5:00 AM. Get up and make breakfast. Keep this up for 5 years. Look cheerful.

PHYSICAL TEST (WOMEN): Obtain a large beanbag chair and attach it to the front of your clothes. Leave it there for 9 mo. Now remove 10% of the beans.

PHYSICAL TEST (MEN): Go to the nearest drug store. Set your wallet on the counter. Ask the clerk to help himself. Now proceed to the nearest food store. Go to the head office and arrange for your paycheck to be directly deposited to the store. Purchase a newspaper. Go home and read it quietly for the last time.

FINAL ASSIGNMENT: Find a couple who already has a small child. Lecture them on how they can improve their child's discipline, patience, tolerance, toilet training, and table manners. Suggest many things they can improve as well. Emphasize to them that they should never allow their children to run riot. Enjoy this experience. It will be the last time you'll have all the answers.
TOP TEN QUESTIONS TO ASK YOURSELF TO KNOW IF YOU'RE TOO OLD TO DRIVE
10. Do you think the new Cadillacs are too small?
9. Do your hands always stay on the sides of the steering wheel, even when you're turning a corner?
8. Does it take you more than four minutes to get out of your car?
7. When you parallel park, do you just back up until you hear something?
6. Does it scare you to get your car up to the speed limit?
5. Have you passed another vehicle in the last three years?
4.Do you use cruise control because your leg fell asleep?
3. In the last six months, have you checked to see if your turn signal is on?
2. Does your bumper sticker mention Eisenhower?
1. When the police pull you over, are they amazed to find out you're sober?