The Glow Morning Show
---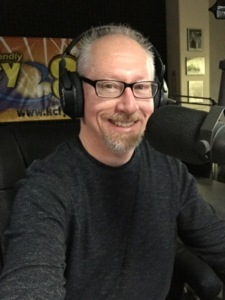 GOOD MORNING TO YOU!!!
I count it a great privilege to be on the air every morning!  I mean, let's face it, I've got a pretty important job to do each day here on the Glow Morning Show.....I've got to get you up!
Not only that, but I want to help you start your day the right way.  I start with great music to inspire and encourage you.  Then I get into God's Word and pray with you.  We hit some great topics, give away amazing prizes and laugh at every opportunity!
Yes its BIG job but somebody's got to do it...I'm just glad I get to!
HEARTLIGHT VERSE, THOUGHT & PRAYER 11/16/17 
And no wonder, for Satan himself masquerades as an angel of light. — 2 Corinthians 11:14
Thought: While we wait for God's great victory for us to be fully realized, we also need to know that we are in a battle. God will win this battle through Jesus Christ. The final outcome is certain. Christ has already won the decisive battle. However, let's not be fooled; the evil one will do everything he can to deceive all people and confuse the lost. Let's stick with God's plan — living his truth, listening for his voice in Scripture, and following the lead of his Spirit.
Prayer: Holy LORD, please give me the ability to discern truth and resist the deception of Satan. Please empower me by your Spirit as I seek to live victoriously for you. In Jesus' name. Amen.
The Thoughts and Prayers for Today's Verse are written by Phil Ware. You can email questions or comments to phil@heartlight.org.
---
5 Common Areas Where Women Want Men to Take Initiative - 11/14/17
1. Leadership
Women want men to set a standard and direction for the family. They desire us to point our families to a higher moral character. This is not to say they want everything dictated to them. They are as much a part of determining the values of the family as us. However, they want us to carry the weight by living it out consistently, communicating it effectively, and reinforcing it.
2. Attention
Women want men that have eyes and ears for their family. They want full engagement and focus in conversation with both them and the kids. If you are like me, it's easy after a long day to want to checkout. I have to remind myself, sometimes daily, that my family deserves, at least, as much attentive interest as work. When we enter the front door, they want us to zero in and pursue.
3. Planning
 If there was ever a place where my wife and I were opposites, it's this one. It's tough enough for me to figure out what to do today, let alone think ahead. My wife, meanwhile, already has our daughter's birthday planned . . . in 2019 (Not really, but kind of). Whether you are a planner or not, they want our engagement here: vacations, date nights, family outings, meal plans, etc. It makes them feel cared for when we think things through with them and help them plan. They feel even more cared for when we bring it up before they do. When we leave them alone to plan, they feel alone. That's the last thing they want.
4. Home Improvement
I haven't met a woman yet that doesn't want a beautiful home. Right or wrong, in some ways, it is a representation of them. They want us to notice the small details they add to make the home look better and appreciate it. Carrying our share of responsibility for household cleaning is a way to take weight off their shoulders. However, probably the thing they want most is to dream with them about the ideal home. It's not really about size and wealth as much as it is creating a life together.
5. Finances
Women want a sense of security. It's not about having a large salary, but an understanding and clear picture of the financial details. Security comes by our driving the financial conversation, setting goals, and accountability. This doesn't mean dictating to them like a subordinate, but initiating the discussion of fiscal health and vision. Then it involves strategizing with them on how to reach those goals.
---
TOP TEN Elementary School Excuse Notes - 11/16/17
"Jerry was at his grandmother's yesterday, and she did not bring him to school because Jerry couldn't remember where the school was."
"Ronnie would not finish his work last night. He said his brain was too tired of spelling."
"Eric hurt his knee in a karate tournament over the weekend. He won his age group, but was in too much pain to do his math assignment."
"Amy did not do her homework last night because we went out to a party and did not get home until late. If she is tired, please let her sleep during recess time."
"Henry stayed home because he had a stomach ache from eating too much frosting."
"It was my fault Mike did not do his math homework last night. His pencil broke and we do not have a pencil sharpener at home."
"Scott didn't practice last night because he lost his tooth in the mouthpiece of his trumpet."
"Diane was late on Wednesday. She fell asleep on the bus and was taken back to the bus yard."
"Cody was absent yesterday because we were out bowling until 2 AM."
"Tommy wasn't in school yesterday because he thought it was Saturday."