The Glow Morning Show
---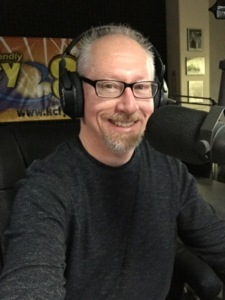 GOOD MORNING TO YOU!!!
I count it a great privilege to be on the air every morning!  I mean, let's face it, I've got a pretty important job to do each day here on the Glow Morning Show.....I've got to get you up!
Not only that, but I want to help you start your day the right way.  I start with great music to inspire and encourage you. Then I get into God's Word and pray with you.  We hit some great topics, give away amazing prizes and laugh at every opportunity!
Yes its a BIG job but somebody's got to do it...I'm just glad I get to!
HEARTLIGHT VERSE, THOUGHT & PRAYER 7/16/18 
Get rid of all moral filth and the evil that is so prevalent and humbly accept the word planted in you, which can save you.
Thoughts on Today's Verse...
Isn't it true! When we find ourselves caught in the clutches of the moral filth of our culture, we find the Word of God boring and irrelevant. Yet even in those moments when Satan uses sin to harden our hearts, God's Spirit calls us to change at a level deeper than just the mere understanding of the words of Scripture. Thank God for his Spirit which can use his Word like a surgeon's scalpel and do the needed surgery on our hearts.
My Prayer...
Holy God, with the help of your Holy Spirit, today I willingly and decisively give up the immoral habits in my life. I recognize that these not only offend your holiness and grace, but also harden me to your will, pull me away from your character, and blunt my witness to others. Please forgive me and sustain me as I seek to live a life wholly pleasing to you. In Jesus' name I pray. Amen.
---
How To Have Good Talk With Your Kids In A Digital Age - 7/11/18
The art of conversation is waning in our digital age. Meal times, car rides, and bedtime tuck-ins once provided space and quiet for conversation to blossom. Now, these quiet spaces are punctuated by alerts, rings, and the allure of glowing screens in the hands of both children and adults. It is so common to see families together but disengaged, heads bowed and eyes glued to devices, that we've come to accept this as the new norm.
Yet as we attend to our devices with diligence, the intimacy we crave goes unsatisfied. Fulfilling conversation requires vulnerability, concentration, and effort—values that may not resonate in our culture of sound bites and instant gratification. But as parents, we understand that the most intimate moments with our kids arise when the tech is put away and we give our attention fully to one another. Here are a few ideas on how to keep the art of conversation alive with your kids at any age.
Create a culture of conversation in your home
Make your home a place where conversation can flourish. Keep the TV—and music with lyrics—turned off unless you are actively paying attention. Turn computers off when not in use. Leave portable devices in another room during meals or family times. Turn off alerts on your phone so social media or the latest sports stats can't hijack your conversations. Studies show that even the presence of a smartphone hinders free-flowing communication, so make a conscious effort to keep distractions at a minimum.
Encourage your kids to find their voice
Conversation requires deep listening and thinking on your toes—skills that take time to develop. Give your kids opportunities to practice. Ask open-ended questions to prompt imagination and creativity. Solicit opinions about current events or local happenings. Invite their suggestions about a dilemma you have at work or a home project. Cultivating conversation requires children to learn they have opinions and ideas to share, and then to express them so others can understand and respond.
Use conversation starters
Conversation prompts can help when you just don't know what to say. Both iMOM and our Q&U app can help you get your conversation started. My kids love to use the prompts we keep in a box in our kitchen to start dinnertime chats. Shared activities can also help you get the conversation going. Reading together is a great way to begin a conversation and works with kids of any age, even with kids who read capably on their own. It especially helps in broaching awkward or uncomfortable topics. Watching a show or movie together can also lead to good talks about characters, storylines, or themes.
Keep it light so you can go deep
Sometimes we so desperately want to know the minds of our children, we actually inhibit sharing. No one wants to open up when they feel pressured to be vulnerable. Quality time together can make space for that sharing without making the time together about the sharing. This makes it easier for children and teens to speak up. Go for a scenic drive and see what conversation develops. Shoot some hoops, go on a hike, weed the yard or paint the spare bedroom. Quiet activities such as these allow for conversation to ebb and flow without the pressure of needing to immediately fill the silences.
---
The 3 Happiest People in the World - 7/10/18
Why is it that some people seemingly thrive in nearly every relationship, while others seem to struggle? And why is it that the people who thrive relationally also seem to be some of the most happy people you will ever meet, and those who struggle oftentimes are not? Is there some 'secret sauce' to relationships that the first group of people knows or follow, but that the others don't?
I believe that there are three secret ingredients to successful relationships. And those who master them, master a greater level of happiness in life. These are the three happiest people in the world.
 1. Those Who Forgive
This is the person who makes the right choice…to forgive.
In the book Why Forgive?, a young New York police officer in 1986 is shot by a teenager in Central Park. In response to the incident that left him paralyzed, he said, "I forgave him because I believe the only thing worse than receiving a bullet in my spine would have been to nurture revenge in my heart."
There are two guarantees in life—you will get hurt by others and others will get hurt by you. Because of this, the power of forgiveness is needed in every close relationship that we have. Choosing forgiveness is optional, but suffering the consequences of unforgiveness is not.
"To forgive is to set a prisoner free and discover that the prisoner was you." – Lewis B. Smedes
 2.  Those Who Forget
This is the person who refuses to be defined by their past. They will allow the past to stay there. Not because they can ever truly forget what has happened in the past, but because they have chosen to allow themselves to focus on the rest of their life, to live again, to love again, and to trust again, despite the pains of the past.
"Forgiveness does not change the past, but it does enlarge the future." – Paul Lewis Boese
 3.  Those Who Let Go
This is the person who is willing to give second chances.
A great example of this is a man named Chris Williams. In February 2007, Chris and his family were hit by a 17-year-old drunk driver. His 11 & 9-year-old son and daughter were killed instantly, and he watched as his pregnant wife took her final breath. Chris was himself badly injured and barely able to move. But before help had even arrived to rescue him, he said that he had this thought, "Whoever has done this to us, I forgive them. I don't care what the circumstances were; I forgive them." And now to this day, he has publicly forgiven the young man who killed his family and even developed a relationship with him.
Those who are willing to let go relinquish their desire to punish the other person. They refuse to hold a grudge or bring up past hurts. This is the person who has found the freedom in forgiveness. Because letting go through forgiveness is us at our best when others have been at their worst.
"Father, forgive them, for they know not what they do." – Jesus of Nazareth
No person is happy simply because they've had an easy or problem-free life. In fact, the people who've been most terribly hurt can also be the most genuinely happy. Why? Because they've made a choice. Hurts are a part of life, especially within the family. But happiness can also be a part of life if you choose to be one of these three people.
---
TIPS FOR SUCCESSFUL FAMILY VACATIONS… - 7/4/18
Some families' idea of a successful vacation is when everyone is still speaking to each other when they pull into the driveway. Or maybe it's when Dad only got lost twice and Mom didn't yell at him.
In my own experience, those would be big scores on the report card of vacations. But I'd like to offer some suggestions for going even beyond these traditional markers of success.
Family vacations come in all shapes and sizes, ranging from camping to cruising, hiking to hoolaing. Sometimes, the dynamic is as simple as you, your spouse and that new baby or as complicated as you, your spouse, your kids, their spouses, their kids, your parents and the dogs. (My head hurts just thinking about that scenario)
Regardless of the configuration, here are a few things that I've found to keep things on the right track and increase the odds that everyone has had a rippin' good time.
KISS – yes it still stands for "Keep it Simple, …" (we don't use that word at our house). People go on vacation to relax and get away from the craziness and complexity of life. Vacation should be a slower, simpler way of life for a few days. Type A's need to check their drive at the door.

Make sure everyone (including Mom) gets some "me" time. If it's just you, your spouse and the kids, schedule at least a morning or afternoon when each of you can do your own thing and not be responsible for anyone else for a few hours.

Give everyone their space, especially in the morning. You may have worked out the morning person vs. night owl thing in your own marriage, but a week isn't long enough to come to an agreeable arrangement with everyone else on the trip.

Strike a good balance between free time and planned group activities. Teenagers are already orbiting in another universe and won't appreciate being summoned back to earth too often. Individual families should be encouraged to plan their own outings at least once or twice during the trip.

Planned group activities should be opt in only. If they require an outlay of money that is forfeitable if canceled, make sure everyone pays their own deposit. The last thing you want to be is the banker.

As far as meals go, flexibility and individual responsibility are key. A good plan is for all those capable to be on their own for breakfast and lunch and then encourage everyone to gather for dinner together.

If you have to have a clutter free environment to be happy, you'd better change your definition of happiness. People make clutter, eventually it all gets sorted out and taken home and in the meantime, you have the choice to ignore the mess and have fun with the mess makers.

If you tend to be a high-controller (yes, admit it), you're going to have to take your hands off the reins and let things evolve. The only person you need to worry about is yourself. I can guaranteethings won't go exactly the way you'd like them to but that's life, especially on vacation.

As our own kids got older, I took a survey each year and asked what they enjoyed about our family vacations, how they would like to change things for the next year, and did they have any vacation locations or activities that they'd like to suggest.

Now that all of our children are adults and mostly married, I continue to ask if all the trouble and expense of gathering together for a week is still worth it to them. Thankfully, the answer is a resounding yes from everyone and I think that's in part due to the above suggestions being observed.

Enjoy the moment. Make a point to have a positive discussion with each person, completely focused on them. Affirm them with your words, affection and actions.

If you're the mom or grandmom who's orchestrated this family vacation, don't plan on getting much rest. You'll probably need a vacation after this vacation is over.

---

 
SUMMER POOL SAFETY TIPS - 6/12/18
*Never leave a child unattended near water in a pool, tub, bucket, or ocean.  There is no substitute for adult supervision.
*Designate a "Water Watcher" to maintain constant watch over children in the pool during gatherings.
*The home should be isolated from the pool with a fence at least 60" tall that includes a self-closing, self-latching gate.  The gate should open away from the pool, and should never be propped open.
*Doors and windows should be alarmed to alert adults when opened. Doors should be self-closing and self-latching.
*Power-operated pool safety covers are the most convenient and efficient. Solar/floating pool covers are not safety devices.
*Keep a phone at poolside so that you never have to leave the pool to answer the phone and can call for help if needed.
*Learn CPR and rescue breathing.
*Keep a life-saving ring, shepherd's hook, and CPR instructions mounted poolside.
*Do not use flotation devices as a substitute for supervision.
*Never leave water in buckets or wading pools.
*If a child is missing, always check the pool first.  Seconds count.
*Remove toys from in and around the pool when not in use.
*Don't use floating chlorine dispensers that look like toys.
*Instruct babysitters about potential pool hazards, and emphasize the need for constant supervision.
*Responsibilities of pool ownership include ensuring children in the home learn to swim and that adults know CPR.
*Do not consider children "drownproof" because they've had swimming lessons.
---
Top 10 Best Selling Toys
10. Legos
9. Etch-A-Sketch
8. Hot Wheels
7. G.I. Joe
6. Transformers
5. Silly Putty
4. Radio Flyer Wagon
3. Easy Bake Oven
2. The Yo-Yo
1. Barbie
(according to Blitz.com)