The Glow Morning Show
---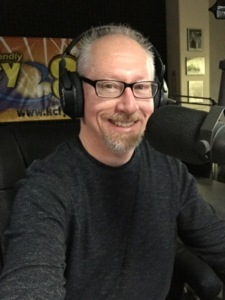 GOOD MORNING TO YOU!!!
I count it a great privilege to be on the air every morning!  I mean, let's face it, I've got a pretty important job to do each day here on the Glow Morning Show.....I've got to get you up!
Not only that, but I want to help you start your day the right way.  I start with great music to inspire and encourage you. Then I get into God's Word and pray with you.  We hit some great topics, give away amazing prizes and laugh at every opportunity!
Yes its a BIG job but somebody's got to do it...I'm just glad I get to!
HEARTLIGHT VERSE, THOUGHT & PRAYER 4/19/18 
Be wise in the way you act toward outsiders; make the most of every opportunity. Let your conversation be always full of grace, seasoned with salt, so that you may know how to answer everyone. — Colossians 4:5-6
Thought: Jesus warned about our giving account for every idle word. Paul takes it a step further and emphasizes how important this is with those who don't know Christ. We want to seize every opportunity when around those who are not Christians and show kindness, care, and control in the way we use our speech. Someone's eternal destiny may be resting on our conversations with them.
Prayer: Holy and Righteous God, I know you hate it when your people wound and drive unbelievers away. Please help me display a winsome attitude with all people, but especially those who do not yet know Jesus as their Lord and Savior. In Jesus' name I pray. Amen.
The Thoughts and Prayers for Today's Verse are written by Phil Ware.
You can email questions or comments to phil@heartlight.org.
---
 
SO LITTLE TIME - 4/17/18
So little time to say the things
You'd really like to say -
Before you even find the words,
The time just slips away.
So little time to do the things
You feel that you must do.
So treasure, like the purest gold,
The time God's given you.
So little time to dream your dreams,
For youth has passed its prime,
And all too soon you realize
That there's ... so little time.
So little time to reach the height
To which you're bound to climb,
For swiftly pass the waning years,
And there's ... so little time.
So little time to pass regrets,
And less, to make amends,
Yet God can heal the deepest wounds
In chosen, cherished friends.
So little time to share God's love
And beauty here on earth,
And know, before His endless time,
Their meaning and true worth.
Oh, yes, there is so little time
To seek the hidden door
That opens up to heaven's time,
Where time's forevermore.
---
ORGANIZE YOUR FILES - 4/18, 4/19, 4/20/17
Eileen Roth, author of "Organizing for Dummies," recommends these quick checklists to get organized. Use W-A-S-T-E to decide whether something's worth keeping:
W -- Worthwhile. If the item isn't worth saving, toss it. If it is, move on to the next four questions.

A -- Again. Will you use this item more than once?

S -- Somewhere else. Can you find it somewhere else or borrow it if you need it?

T -- Toss. Will anything happen if you throw it out? If you need it for tax or legal reasons, for example, keep it.

E -- Entire. Do you need the whole thing, the complete catalog, for example, when you only want to order from one page? If not, keep what you need and toss the rest.
Use R-E-M-O-V-E to clear off your desk:
R -- Reduce all the distractions on your desktop, such as knickknacks or this morning's mail. Put them on top of a file cabinet or bookcase instead.

E -- Everyday use. Only keep things you use often on top of your desk.

M -- Move items to the preferred side, whether you're a "righty" or "lefty." Put the phones, pens, pencils and pads within easy reach. Put the telephone on the opposite side so you can write with your preferred hand.

O -- Organize like items together so you can find them easily.

V -- View your time. Keep an organizer and clock on your desk.

E -- Empty the center. Clear off space in the middle of your desk so you can work on the project at hand.
Use R-A-P-I-D Response to sort mail and create stacks for each category:
R -- Read. Magazines, newsletters, etc.

A -- Attend. Notices and invitations for seminars, workshops, meetings.

P -- Pay. Bills.

I -- Important. All unknown incoming mail that needs sorting.

D -- Dump. Mail you know you won't read or need.
Top 10 Perks Working for the National Enquirer - 4/17/18

10. Meeting interesting new people, like bat-boy, and Elvis's two headed baby
9. No more pesky "Reality Police"
8. It satisfies your lifelong goal of burning every bridge possible in the field of journalism.
7. Free backrubs from either the lady with two heads or the frog boy... your choice
6. You get kicked out of all the greatest parties on Oscar night!
5. Free upgrades of Photoshop and all the film you can manipulate!
4. Free beatings by the celebrity of your choice!
3. All those interview trips to Blzirthmork and the Crab Nebula really boost your Frequent Flyer Miles total.
2. You do the same thing Enron's accounting firm did, but you don't get in trouble for it.
1. You can borrow the UFO every third weekend.