The Glow Morning Show
---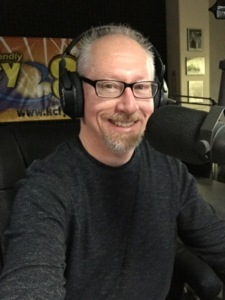 GOOD MORNING TO YOU!!!
I count it a great privilege to be on the air every morning!  I mean, let's face it, I've got a pretty important job to do each day here on the Glow Morning Show.....I've got to get you up!
Not only that, but I want to help you start your day the right way.  I start with great music to inspire and encourage you. Then I get into God's Word and pray with you.  We hit some great topics, give away amazing prizes and laugh at every opportunity!
Yes its a BIG job but somebody's got to do it...I'm just glad I get to!
HEARTLIGHT VERSE, THOUGHT & PRAYER 2/15/18 
Do not let any unwholesome talk come out of your mouths, but only what is helpful for building others up according to their needs, that it may benefit those who listen. — Ephesians 4:29
Thought: We can use our words to be cute. We can use our words to appear impressive. We can use our words to win arguments. We can use our words to defend ourselves. We can use our words to lie and distort. We can use our words to do many things, but God wants us to use our words to bless. So when we speak, if our words do not bless and benefit those to whom we direct them, then we are to simply not say anything. Grandma was right. "If you can't say something nice, then don't say anything at all."
Prayer: Give me wisdom today, dear God, to speak words that bless my family, my co-workers, and those I meet. I want to be truthful, loving, kind, and merciful when I open my mouth and speak. May the words of my mouth be used in your service and to your glory today, dear LORD. In Jesus' name I pray. Amen.
The Thoughts and Prayers for Today's Verse are written by Phil Ware. You can email questions or comments to phil@heartlight.org.
---
10 Ways to Make Your Wife Feel Beautiful - 2/8/18
The National Eating Disorder Association found that 80% of women are unhappy with their weight. Pop culture is a big factor in that. Seventy-five percent (75%) of women portrayed in sitcoms are officially underweight. The average American woman is 5'4" and weighs 140 lbs.
The average model is 5'11" and weighs 117 lbs. Our culture's definition of a beautiful body is getting more and more unrealistic. This twisting is causing many women, perhaps your wife, to feel unattractive.
As a loving husband, you have to counteract our culture. If you implement the following 10 things your wife will tell you, "You make me feel beautiful."
1. Straight up tell her.
Tell her often and in different ways. Don't wait until she needs it. Let her know when she isn't expecting it.
2. Make sure she catches you looking – at her.
Perception is built on small details. A glance, a word, a raised eyebrow, a smile.
3. Never view pornography or "girlie" magazines – the message will be clear.
A husband more interested in other women devastates his wife's self-esteem.
4. Never compare her negatively to other women.
If you really believe your wife needs to look better, tell her she's beautiful now. If you want her to lose weight like her sister or get toned like your neighbor, the last thing you should do is point that out.
5. Place her picture prominently on your desk and carry it in your wallet.
Introduce her to your friends as, "My awesome, beautiful wife." In other words, develop and support a culture of positive regard.
6. Shower her with gifts and tokens of love at unexpected moments.
Communicate how valuable she is. Nothing does the job like unconditional, generous, spontaneous love.
7. Compliment her in front of your children.
Make sure your kids know how special and lovely their mother is. They will repackage those sentiments. The truth will leak out and do its work.
8. Purchase intimate apparel, have it gift wrapped, and leave the package for her with a love note.
Need we say more? I don't think so.
9. Be deliberate about romance.
Be the guy that worked so hard to win your wife's affection before you were married. Be courteous, sophisticated, funny, and/or romantic. Whoever that guy was, bring him back.
10. Treat your own physique with respect.
Let your wife see how you respect your body and your health. Self-respect is a value that replicates within the family. "My wife deserves the best that I can be…" But don't talk about it, especially if you are losing weight. It may make her feel like a failure.
---
THE YEAR OF THE HIKE: MUGGINS MTN - 1/30/18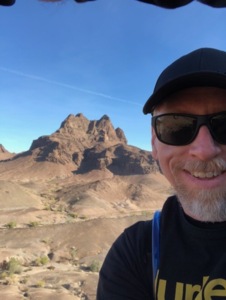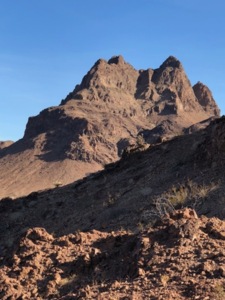 Take I-8 over Telegraph Pass and exit Dome Valley over the freeway and under Lagurta Underpass, then left at the sign for Muggins Mountain Trailhead.  Another right at the four-way stop. Turns into a dirt road up to the Trailhead.  4x4 recommended, but you can do it with a higher clearance vehicle.  The typical loop is about 5.5 miles.  It's a great winter hike!
---
THE YEAR OF THE HIKE: MUGGINS MTN 3 - 2/12/18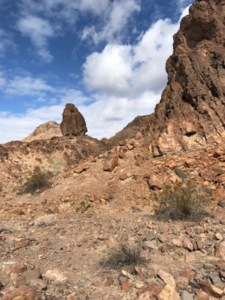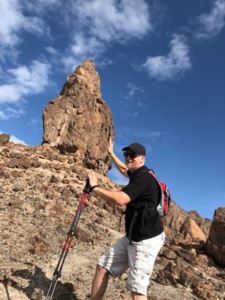 Well, i got the opportunity to go out to Muggins Mountain again and I have to say that I can't get enough of this place!  Hiked 8.6 miles on Monday.  Eagle Rock is pictured above in the first 2 pics, and the other is from Eagle Rock looking back in to the Muggins Wilderness.  I now have 23.5 miles completed this year...my goal is 250 miles before the year is up!
---
KIDS THOUGHTS ON MARRIAGE, DATING, AND LOVE - 2/15/18
HOW DO YOU DECIDE WHO TO MARRY?
You got to find somebody who likes the same stuff. Like, if you like sports, she should like it that you like sports, and she should keep the chips and dip coming. --Alan, age 10
No person really decides before they grow up who they're going to marry. God decides it all way before, and you get to find out later who you're stuck with. --Kirsten, age 10
WHAT IS THE RIGHT AGE TO GET MARRIED?
Twenty-three is the best age because you know the person FOREVER by then. --Camille, age 10
No age is good to get married at. You got to be a fool to get married. --Freddie, age 6 (very wise for his age)
HOW CAN A STRANGER TELL IF TWO PEOPLE ARE MARRIED?
You might have to guess, based on whether they seem to be yelling at the same kids. --Derrick, age 8
WHAT DO YOU THINK YOUR MOM AND DAD HAVE IN COMMON?
Both don't want any more kids. --Lori, age 8
WHAT DO MOST PEOPLE DO ON A DATE?
Dates are for having fun, and people should use them to get to know each other. Even boys have something to say if you listen long enough. --Lynnette, age 8 (isn't she a treasure)
On the first date, they just tell each other lies and that usually gets them interested enough to go for a second date. --Martin, age 10
WHAT WOULD YOU DO ON A FIRST DATE THAT WAS TURNING SOUR?
I'd run home and play dead. The next day I would call all the newspapers and make sure they wrote about me in all the dead columns. --Craig, age 9
WHEN IS IT OKAY TO KISS SOMEONE?
When they're rich. --Pam, age 7
The law says you have to be eighteen, so I wouldn't want to mess with that. --Curt, age 7
The rule goes like this: If you kiss someone, then you should marry them and have kids with them. It's the right thing to do. --Howard, age 8
IS IT BETTER TO BE SINGLE OR MARRIED?
It's better for girls to be single but not for boys. Boys need someone to clean up after them. --Anita, age 9 (bless you child)
HOW WOULD THE WORLD BE DIFFERENT IF PEOPLE DIDN'T GET MARRIED?
There sure would be a lot of kids to explain, wouldn't there? --Kelvin, age 8
HOW WOULD YOU MAKE A MARRIAGE WORK?
Tell your wife that she looks pretty, even if she looks like a truck. --Ricky, age 10