KCFY Announcements
---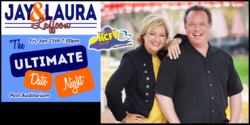 If you're like most couples, you and your spouse probably stood at the altar, hearts and minds giddy with expectation of the journey ahead. But, somewhere along the line, the romantic "Street Car Named Desire" got derailed by the big "Locomotive Named Reality."
Is there any hope to get on track? Yes! say Jay and Laura Laffoon, marriage "edu-tainers" and hosts of the comedy-infused Ultimate Date Night event, where they help couples learn how to create and regularly celebrate a thriving marriage while exploring the realities that everyday life brings to the relationship.
Jay and Laura will bring their Ultimate Date Night Event to Yuma, AZ on Friday, Jan 25th at Post Auditorium. The event starts at 7pm with Tickets Available online - HERE or locally at the KCFY Studios, 1921 S. Rail Ave. Tickets are $15 in advance. Tickets at the door will be $20. For more information, please call 928-341-9730.
Laura explains, "over our 30 years of marriage, there have been days I can remember "when" I got married and "where" I got married, but for the life of me, I can't remember "WHY" I got married!"
Their humorous and entertaining transparency at the Ultimate Date Night events offers couples permission to discover and bring laughter into their marriage as they enjoy a connecting experience with one another".
To catch a glimpse of the Ultimate Date Night, check out their video at JayAndLaura.com
"A thriving marriage has an impact far beyond the relationship itself," says Jay. "A great marriage not only helps our kids, but becomes a role model for others as well. We want people to see that a lasting marriage is possible. AND you can have fun in the process. You really can!!"