KCFY Announcements
---
Back to KCFY Announcements
Go Gold!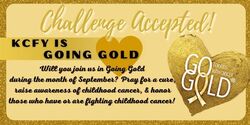 KCFY is Going Gold the entire month of September and is challenging the Yuma community to Go Gold with us!
Let's help raise awareness of childhood cancer & honor children in Yuma who have or are battling cancer!
How it works is you let us know, challenge accepted:
- To pray for children who are currently or have battled cancer, their families, and the doctors, nurses and staff who care for them.
- Help raise awareness of childhood cancer: This can be anything from talking with others about childhood cancer, decorating your office or classroom, sharing a post on social media related to childhood cancer awareness, or giving a donation to a non-profit that has the goal of finding a cure for childhood cancer or that helps families who are currently in the fight.
- Wrap up Going Gold September 28th with Pajama Day Yuma in honor of those amazing little warriors wearing your pajama's to work or school.
Let us know if you want to challenge anyone else by emailing tracy@kcfyfm.com, calling in your challenge to (928)317-8810, or by posting your challenge on social media and tag KCFY.