Staff Bios
---
Greg S. Myers - KCFY General Manager
Host of The Glow Morning Show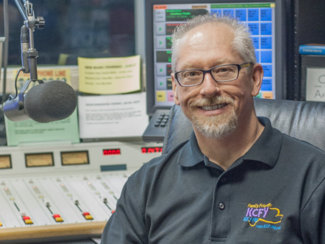 If you would have told me that I would be working as a Broadcaster when I was just starting college, I would have probably laughed at you. In fact it wasn't even on the radar, but God has a way of re-directing you when he has a plan to carry out.
I switched majors while at Biola University from Computer Science to Communication: Radio, TV & Film. Trust me...I'm so glad I did. I got bit by the radio bug and I've never looked back. I graduated from Biola University in May of 1990 with my Bachelor's Degree in Communication and went to work for Crawford Broadcasting which owned KBRT AM-740 Talk Radio. I spent 2 years there as a Producer and then moved on to Yuma to help put KCFY on the air. I eventually incorporated Relevant Media and purchased KCFY from the former owners in May of 2005. I also serve in my church as Worship Leader and play bass.
I've been a "Yuman" now for over 28 years and look forward to all that God has planned for KCFY and my family as we look to the days ahead. And speaking of my family, I married my college sweetheart Donna while at Biola and we've been married 31 years and we have two children, Alyssa (22 yrs old) and Joshua (20 yrs old). Oh, and I can't forget the dog......Mabel (our humane society adoptee) and our 24 chickens providing the best eggs on the planet!
---
Mike Bondora - KCFY Community Relations/Development
Host of The Mid-day Cafe'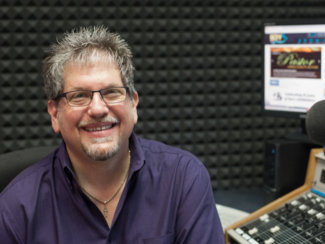 Though my lovely wife, Valerie, and I have been in full-time ministry since 1995, this "radio experience" only started in August of 2002.  I came onboard with KCFY in 2002, but in actuality, a job interview never 'officially' occurred.  Greg Myers and I simply 'hit it off' and  were both  gifted with the same passion of introducing people to JESUS, be part of building up Christ followers, and be willing catalysts for unity among God's family.  After a short time, we also discovered God had brought us together for greater purposes than either of us had dreamed of, at least, in quite some time.  In the short time of being a part of this media-ministry, God has allowed us to assemble an anointed and progressive team, each of having different roles and talents, working together, in unity.  
Wow, the Bible, in action!
1 Corinthians 12:18 (NIV) "But in fact God has arranged the parts in the body, every one of them, just as he wanted them to be".

*Footnote:  Though diagnosed with Multiple Sclerosis, in December of 2002, GOD continues to allow me to be mobile and engaged in ministry.  (Though my neurologist insists the MRI's say I shouldn't be walking!)  
Yes, I have good AND bad days (just like everyone else), but when "in my right mind", I remember that HE is GREATER IN ME…than he who is in the world.  After all, I am one of The King's kids!  So, let's get to work!

No...GOD's not finished with me, my family, KCFY, OR YOU!
I can't wait to see what He does next!!!  Are you willing to be a part of it?!?!?
---
Patty Larson - Office Manager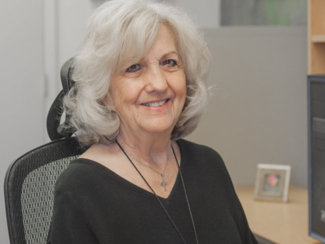 I go "way back" as a Christian and feel blessed to have been raised as a child in church. In my college days I targeted a teaching career with a journalism backup. However, like a lot of you...I found that God had "other plans" for me.
I met and married my husband of 48 years when we were very young and we were blessed with two sons and a beautiful family followed. We moved from COLD country (Wisconsin) to HOT country (Yuma, AZ). It's been quite the journey. It's been filled with lots of life experiences, careers, friends, family, churches, and community involvement.
Through it all I've found my refuge and strength in Jesus, who NEVER fails me and He won't fail you either if you BELIEVE IN HIM!
My favorite Bible verse is John 3:16 - "For God so loved the world that He gave His only Son, that whoever believes in Him shall not perish, but have eternal life." For me...., this says it all and has gotten me through some really tough times. I hope it can do the same for you. So, memorize it and keep it in your heart.
May God bless you and yours. Keep listeneing to KCFY and be encouraged!
 Patty
---
Melissa Wiles - Donor Relations
 
I have lived in Yuma for over 35 years with my husband Larry and our 2 daughters who are now married and have given us 5 beautiful grandchildren. Before coming to KCFY I was a Real Estate Broker for 20 years. I then worked with my husband for 8 years at Whitey Wiles Construction until the Lord called me to work at Foothills Southern Baptist Church for 7 years where I met the staff at KCFY. I now have been doing computer data entry for KCFY for 5 years. I enjoy it very much!  God has a plan for my life and yours " For I know The plans I have for you," declares the LORD, "plans to prosper you and not to harm you, plans to give you hope and a future." - Jeremiah 29:11
---
Tracy Escamilla - Production Assistant
Host of the Weekend Music Mix
 
I was just supposed to be a volunteer for special events, but God had a bigger plan! I never could have imagined being asked to be part of the KCFY staff. I was just a listener who fell in love with the ministry and encouragement that came over my radio daily, what did I have to share with people that could possible encourage them or direct them to Jesus? Greg told me to just be myself and share my experiences as a Christian woman, wife to my amazing husband Big Mike, and mother of 4 children (Reyna, Alysa, Justina, and Aaron) who would hold me accountable with "what would Jesus do Mom?"
 So that is exactly what I do, I share the ups and downs of my Christian walk and how God has shown me the importance of quality time with my family. I laugh, I cry, I share when I needed prayer and love to pray for our listeners. I have come to realize that God can use me to ministry to people by being who He created me to be, by being honest about my need for Him. I wasn't raised in a Christian home but God has shown me how He always put people in my path to direct me towards Him my entire life. I committed my life to the Lord in 2005 and He has not given up on me even when I fall short of where He wants me to be, He passionately pursued me and held onto me tightly as a loving father does to children. He reminds me I don't have to be perfect I just have to continue to follow Him as a work in progress. I am blessed to be called His daughter and want others to know that they are loved and can come to Christ as they are, allowing Him to be their redeemer, healer, loving Father, and fill them with a renewed hope that can only be found in Him. "May the God of hope fill you with all joy and peace as you trust in him, so that you may overflow with hope by the power of the Holy Spirit." Romans 15:13
---