Book/DVD Reviews
---
Book Reviews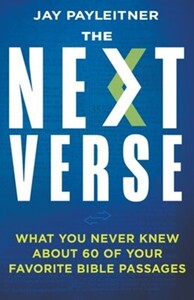 The Next Verse: What You Never Knew About 60 of Your Favorite Bible Passages
Author: Jay Payleitner
Binding Type:  hardback
Publisher:   Whitaker House
ISBN:  978-1-54123-892-2
Retail Price:  $16.99
From the Publisher:

What Comes After John 3:16?

You know the familiar verses of John 3:16, Romans 8:28, and Joshua 24:15. But do you know the verses that follow them? And does it really matter that you do?

The Next Verse by best-selling author Jay Payleitner is a surprising, eye-opening devotional that takes 60 familiar and beloved Bible verses and encourages you to read them in their context.

How can Matthew 11:28 say, "Come to me, all who are weary and carry heavy burdens, and I will give you rest," and then the very next verse require us to put on a new yoke to carry a new burden?

Or think about the millions of motivational posters inspiring athletes by quoting Philippians 4:13, "I can do all things through him who give me strength."  Did you know the next verse suggests we all chill out and learn the secret to contentment?

This unique devotional brings to the surface what many Christians already recognize: they hold numerous Bible verses in their hearts, but they need to go deeper to truly understand them.

Written in a casual, fun style, The Next Verse enables you to absorb the meat of the Scriptures in a nonintimidating way. You will enjoy reading familiar Bible passages. Some long. Some short. Both Old and New Testament. Then you will see how they correspond to the next, previous, or surrounding verses—passages that explain, expand, seemingly contradict, and surprise (they may even make you laugh). Your response will be, "I never saw that before!"

The Next Verse is for avid devotional readers, Bible readers seeking fresh perspectives on Scripture, believers who want to improve their biblical knowledge, pastors and small group leaders looking for a new angle to Bible teaching, and anyone who is intrigued by the question "What comes after your favorite Scripture verse?" Each entry includes an introduction to the favorite verse and related passages, a "Going Deeper" section, and a concluding thought.

Join Jay on an adventure to discover what you never knew about 60 of your favorite Bible passages!

The Cost Of Control: Why We Crave It, The Anxiety It Gives Us, A the Real Power God Promises
Author: Sharon Hodde Miller
Binding Type:  Paperback
Publisher:    Baker Books
ISBN:  978-0-8010-9493-4
Retail Price:  $16.99 
From the Publisher:

We all wish we had more control. When our relationships are strained, when our bodies refuse to cooperate, when the future is uncertain, control promises security and peace. If only I were in charge, we dream. And this illusion seems more attainable than ever. Technology, science, medicine, and the internet all promise us ever-increasing mastery over our world.

The problem is, control is a "devil's deal." The more we seek it, the more it betrays us. In place of predictability, it gives us anxiety. In place of certainty, it creates more complexity. And in place of unity, it divides. It's not just that we cannot control things; it's that we break them even more when we try.

Thankfully the answer to our craving is not simply to "let go and let God." When our kids aren't listening, when our loved ones are self-destructing, or when our health is declining, we don't have to scramble after control, nor do we have to throw up our hands. Instead, God has given us a better tool.

In this culturally insightful and eye-opening book, Sharon Hodde Miller helps us discover the real power God has given us in Christ, to exercise influence over ourselves and our lives.

Breaking Open: How Your Pain Becomes The Path To Living Again
Author: Jacob Armstrong
Binding Type:  Paperback
Publisher:    W Publishing Group
ISBN:  978-0-7852-5832-2
Retail Price:  $18.99
From the Publisher:

In a broken world, we ache for a way to walk through life without giving up or giving in. Instead of breaking down, Jesus offers us another way: breaking open. Discover a new way of living and rise with hope, power, and purpose! 
Everyone aches to be whole. We ache to be healed. We ache to be restored. But most of the time we wouldn't put it into words. We just know we are broken because our child is addicted. We ache because the depression of our youth is now the depression of our golden years. We are stretched to the point of breaking because our career ambitions position us to commit to a pace we can't sustain. Miscarriage, divorce, loneliness. In all of it, we ache. 
In Breaking Open, Pastor Jacob Armstrong exposes the seven dangerous ways that we commonly seek to avoid a breakdown, showing how these seven ways are stealing life from us, and then walks us through a progression of seven Jesus-ways that move us from merely breaking to breaking open. It is these Jesus-ways that get us to the good stuff: a life filled with hope and opportunity. 
In Breaking Open, you 
discover how your greatest heartaches can open you up to the life God desires for you,
learn how to slow down from a frenzied pace and settle into the spacious life you have been longing for right now,
stop living a cheap imitation of life and develop trust in who God says you are,
receive permission not to have it all together by finding the power to love and live vulnerably, and
find the courage to name the achy undercurrent in your soul so you can break it wide open and let Jesus heal you and make you whole.
 Jesus never intended for us to break and stay shattered, but to fall and rise differently. To rise with power, rise with hope, rise with purpose. In Breaking Open, learn to rise open to a new way of living!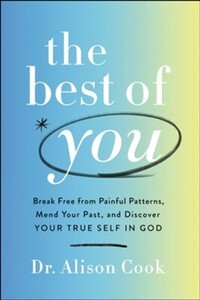 The Best of YOU: Break Free from Painful Patterns, Mend Your Past, & Discover YOUR TRUE SELF IN GOD
Author: Dr. Alison Cook
Binding Type:  Hardback
Publisher:    Nelson Books
ISBN:  978-1-4002-3454-7
Retail Price:  $26.99
From the Publisher:
Do you sometimes feel so stuck in an endless cycle of meeting everyone else's needs and expectations that you lose sight of your own? You don't have to stay stuck, overwhelmed, or defeated. The Best of You reveals breakthrough strategies to discover your true self, find your voice, set limits, and find the path to the life and relationships that God designed for you to enjoy.

Brain Washied: Overcome Toxic Thoughts and take Back Control of Your mind
Author: Manny Arango
Binding Type:  Paperback
Publisher:    Bethany House
ISBN:  978-0-7642-4069-0
Retail Price:  $16.99
From the Publisher:

How to Be Mentally Strong in Christ

You can either take your thoughts captive or be held captive by them. The choice is yours.

Scripture declares we will be transformed by the renewing of our minds. Manny Arango describes this process as God washing our brains, and it is the surest way to overcome anxious thoughts, self-doubt, bitterness, and other mental struggles. But how can we experience this healing power?

This book is a biblical roadmap for winning the battles in your mind. Identify faulty ways of thinking and learn how to take every thought captive under the authority of Christ.

"Sometimes we all allow trauma and pain to determine how we journey through life and relationships. Brain Washed is a clear guide to get the right perspective."--CHANDLER MOORE, Maverick City Music

"A timely and relevant book to help the body of Christ find lasting freedom from toxic thought patterns."--PASTOR ROBERT MADU, Social Dallas
Save
Save
Save
Save
Save
Save
Save
Save
Save
Save

Why Did God Give My Kids Free Will?: He Could Have waited Until They Moved Out
Author: Ken Swarner
Binding Type:  Paperback
Publisher:   David C Cook
ISBN:  978-0-8307-8419-6
Retail Price:  $17.99
From the Publisher:
Do you sometimes wonder about God's plan, specifically why He gave our children free will to do the things they do? More thoughtful and holy thinkers have tackled the question.

It's a mystery, mostly, but in its raw form, parental mishaps help us get closer to God. Consider:
Learning patience while spitwads land in your drink
Embracing the absurdity of teens wearing shorts in the winter
Practicing gentleness as you explain (again) why it is important to restock the toilet paper
Regret, humiliation, control … you can let go of these when you laugh and make peace with the idea that God may just have a sense of humor after all.

With anecdotes, prayers, devotionals, and reflections, Why Did God Give My Kids Free Will? shows readers the hilarious, spiritual journey of life with kids sure to inspire and unite Christian parents.