Book/DVD Reviews
---
Book Reviews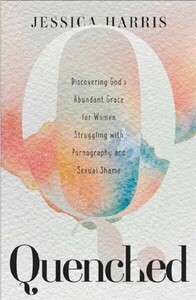 Quenched: Discovering God's Abundant Grace for Women Struggling with Pornography and Sexual Shame
Author: Jessica Harris
Binding Type:  paperback
Publisher:   Baker Books
ISBN:  978-1-5409-0226-9
Retail Price:  $17.99
From the Publisher:

Grace-Filled Hope for Women Struggling with Lust and Pornography
· Author has been featured on The 700 Club, ABC's Nightline, and CBN
· "With audacious honesty and raw emotion, Jessica shows how Jesus meets us in the messiness of our lives."--Sam Black, director of recovery education, Covenant Eyes
· Meets an underserved need for resources for Christian women struggling with lust and pornography Lust is a man's problem, right? Wrong. When we see lust as an exclusively male issue, it leaves Christian women with nowhere to turn when they struggle with the same things. They suffer silently and feel like they will never be free. Jessica Harris has been there, and she has made it her mission to break the silence, banish the shame, and bring women's struggles into the light of God's grace and forgiveness. She understands that when you suffer in silence, you are building a wall of shame between yourself and God that God does not desire for you. In this authentic and honest book, she shows women a road map for restoration that answers the question "Is there grace left for me?" with a resounding and emphatic "Yes!" For any woman who desires to escape the pull of lust, pornography, and sexual shame, this book is a refreshing drink of water that will quench the fire within and point the way toward freedom.

The Solo Pastor: Understanding and Overcoming the Challenges of Leading a Church Alone
Author: Gary L. McIntosh
Binding Type:  Paperback
Publisher:    Baker Books
ISBN:  978-0-8010-9489-7
Retail Price:  $17.99 
From the Publisher:

Encouragement and Guidance for Successfully Leading a Church by Yourself
· Author's books have sold over 400,000 copies
· Author is president and founder of McIntosh Church Growth Network and has consulted with over 1,200 churches
· About 70% of all pastors are currently leading churches without any other professional help
Being a pastor is a complex and demanding role, especially for someone leading alone. The majority of pastors find themselves in this position, leading their smaller church with no additional professional assistance. The challenges are many, including loneliness, isolation, self-doubt, overwhelm, feelings of inadequacy, and a constant search for additional resources and volunteers. Where does a solo pastor turn for help and encouragement? With compassion and plenty of proven, practical strategies, church consultant and former solo pastor Gary L. McIntosh steps in to fill the void. In this book he helps the solo pastor
· understand the strengths and challenges of the solopastor church
· develop effective leadership skills
· build and maintain vital relationships
· manage expectations
· spot and neutralize "bullies" who seek to control the church
· communicate clearly
· make the most of limited resources
· establish healthy priorities and boundaries
· and more

Mind Your Mindset: Why Success Starts with Your Thinking
Author: Michael Hyatt and Megan Hyatt Miller
Binding Type:  Hardback
Publisher:    Baker Book
ISBN: 978-0-8010-9470-5
Retail Price:  $26.99
From the Publisher:

Know Your Brain, Change Your Results
· Hyatt's Baker books have sold over 500K copies
· Hyatt is a New York Times, Wall Street Journal, and USA Today bestselling author
· Hyatt's email list has more than 900K subscribers and he has a social media reach of 650K
Everyone has two remarkable, related capacities. We can aspire to something more and we can envision ways to achieve it. But if we're capable of aspiring to something better and making effective plans, why is it sometimes so hard to reach that next level of success? To achieve the results we want, we first need to understand how our thinking drives our actions. By understanding the latest science about how the human brain works, we can leverage it to maximize our performance. Our daily experience, our plans and goals, our actions and reactions are all the product of our thoughts and mindset. Drawing upon the latest insights from the fields of performance psychology, neuroscience, and cognitive science, as well as case studies from their own clients, bestselling authors Michael Hyatt and Megan Hyatt Miller explore the power of ideas to shape superior outcomes not only in business but in the rest of life.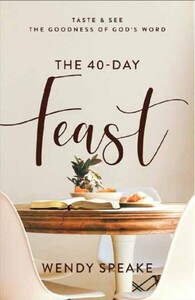 THE 40 DAY FEAST: Taste and SEE THE GOODNESS of GOD'S WORD
Author: Wendy Speake
Binding Type:  Paperback
Publisher:    Baker House
ISBN:  978-1-5409-0125-5
Retail Price:  $17.99
From the Publisher:
An Invitation to Feast on the Goodness of God's Word
· Author's Baker books have sold nearly 300,000 copies
· Author is a frequent guest on popular podcasts and media outlets, including Focus on the Family, FamilyLife, and Susie Larson Live
· 40 devotional readings invite readers to learn to read and apply the Bible for themselves
Many of us believe that the Bible is the Word of God, but we never actually read it. Or we've read bits and pieces, one verse or passage at a time, but struggle to apply it to our daily lives. Perhaps it's because we don't really understand what the Scriptures are all about or how to feast on them. That's where Wendy Speake comes in with a fresh twist on her popular 40-day sugar and social media fasts. The 40-Day Feast invites you to get hungry for God's Word, learn how to ingest and digest it for yourself, and, ultimately taste and see just how good (and applicable) it really is. In 40 daily readings, you'll discover the transforming power bound up in your Bible, learn to apply its truths to your daily life, and awaken a deep hunger for more of God and less of the things that don't satisfy. Ready for your relationship to God's Word to be transformed? Welcome to the feast!

What Every Christian Should Know: 10 Core Beliefs to Help You Stand Strong in a Shifting World
Author: Dr Robert Jeffress
Binding Type:  Hardback
Publisher:    Baker Books
ISBN:  978-1-5409-0212-2
Retail Price:  $26.99
From the Publisher:

Strengthen Your Faith and Stand Strong against False Teachings
· Pathway to Victory with Dr. Robert Jeffress is the most watched program on TBN
· Dr. Jeffress's Baker books have sold more than 500,000 copies
· Dr. Jeffress and Pathway to Victory have more than 380,000 loyal social media followers and an email list of over 800,000 We live in a time when believing in anything or nothing is considered equally "truthful." Many people don't identify with a specific religion, preferring to think of themselves as "spiritual" to avoid seeming intolerant of other beliefs. This has led to some squishy ideas about right and wrong, as well as false teachings infiltrating our churches. More than ever, we must stand firm on the clear teaching of God's Word. In What Every Christian Should Know, Dr. Robert Jeffress equips you to understand ten core doctrines of Christianity so you can be confident that your faith is built on solid ground and stand strong against false teaching. Each chapter illuminates a core belief of the Christian faith, such as God's Word, the Trinity, angels and demons, sin, salvation, future things, and more. Nothing is more hopeful and beneficial in our trying times than good theology. With vivid illustrations, clear explanations, and practical applications for believers today, this book will help you ground your faith in capital T truth.
Save
Save
Save
Save
Save
Save
Save
Save
Save
Save

Everyday Prayers For Peace: A 30 Day reflective Journal for Women
Author: Brooke McGlothlin
Binding Type:  Paperback
Publisher:   Whittaker House
ISBN:  978-1-6412-3890-8
Retail Price:  $12.99
From the Publisher:
How do you pray for peace when it seems like your whole life is spinning out of control?
In Everyday Prayers for Peace: A 30-Day Devotional & Reflective Journal for Women, author Brooke McGlothlin guides you through prayers for peace wherever it's needed-in your family, your community, your workplace, your church, and the world at large.
This thirty-day devotional features Brooke's "Think, Pray, Praise" method of daily prayer-a practical, biblical way to pray the Word of God over yourself and the people you love.
Jesus said, "Peace I leave with you; my peace I give to you. Not as the world gives do I give to you. Let not your hearts be troubled, neither let them be afraid" (John 14:27).
Brooke says Jesus does not simply give us peace; He is our peace. He is "our refuge in the storm, a place where we can run to get strength, comfort, and truth to see us through whatever troubled circumstances would come our way." This peace offered by our dear Lord can be ours if we just pray.