Book/DVD Reviews
---
Book Reviews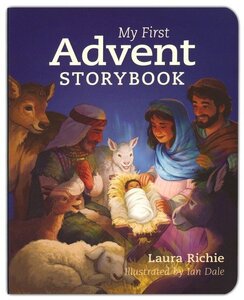 My First Advent Storybook
Author: Laura Richie
Binding Type:  Hardcover
Publisher:    David Cook
ISBN:  9780830782994
Retail Price:  $8.99
From the Publisher:
In My First Advent Storybook Board Book by Laura Richie and illustrator Ian Dale, your little ones will learn of the promise God made from the times of Abraham all the way to the arrival of baby Jesus.
This interactive board book will introduce little ones to the special themes of Advent through rhythmic text, and would make a great gift for baby showers, birthdays, Christmas and Advent. Board book, ages 0-3.

Finding My Father:  How the Gospel Heals the Pain of Fatherlessness
Author: Blair Linne with Shai Linne
Binding Type:  Paperback
Publisher:    The God Book
ISBN:  9781784966469
Retail Price:  $15.99
From the Publisher:
A personal story of learning to trust our heavenly Father when you feel your earthly father has let you down.

Blair Linne's personal story of growing up without a father at home reflects the experiences of millions. She weaves her personal story with thoughtful theological reflection, inviting readers to learn from God what "father" really means and to trust him, even if they feel their earthly father has let them down.

This book will help readers to shift their eyes from what they do not have in their earthly fathers (who, whether present or absent, loving or the opposite, can never be perfect) to what they do have in their eternal Father, who will never disappoint, reject or abandon them.

Readers will see that the gospel promises not just forgiveness but also a place in God's family, experienced in a local church, where they can enjoy the fullness of his fatherly joy, care, wisdom, provision, protection and security.

Also includes a chapter by Blair's husband, the Christian hip-hop artist Shai, on his own story of fatherlessness and faith.

Faithful Grand-parenting:  Practical Ideas for Connecting the Generations
Author: Becky Danielson & Carol Olsen
Binding Type:  Paperback
Publisher:    Equip Press
ISBN:  9781951304584
Retail Price:  $12.99
From the Publisher:
Grandparents have a unique opportunity to impart knowledge and spiritual wisdom into the lives of their grandchildren-as well as create long-lasting, happy memories. Join authors Becky Danielson, M.Ed., and Carol Olsen as they lead readers through a series of tips, ideas, and unique ways to connect with grandchildren to be a positive spiritual influence and role model. The authors delve into topics like how to embrace the role of being a grandparent, ideas to connect and invest spiritually in children of all ages, finding ways to relate despite generational differences, and how to leave a legacy of faith.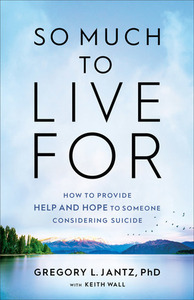 So Much to Live For:  How to Provide HELP AND HOPE to Someone Considering Suicide
Author: Gregory L. Jantz, PhD
Binding Type:  Paperback
Publisher:    Revell Publishing
ISBN:  9780800739812
Retail Price:  $16.99
From the Publisher:
Suicide is the nation's tenth leading cause of death, and in 2018 nearly 50,000 people in the US died by suicide, with thousands more attempting to take their own lives. Countless others experience suicidal ideation due to depression, anxiety, addiction, and more, living for years in silent misery. The sad truth is that someone you know may be suffering.

With great compassion and clear, actionable strategies, So Much to Live For shows you what to do, what to say, and how to intervene if you suspect a friend or loved one is considering suicide. You'll learn the signs and symptoms, understand the causes, and build the courage to step up and speak out.

God heals wounds and repairs brokenness, and he often does it using people like you. You can be instrumental in saving the life of a suicidal person you know. This book shows you how.

Your Brain's Not Broken:  Strategies for Navigating Your Emotions and Life with ADHD
Author: Tamara Rosier, PhD
Binding Type:  Paperback
Publisher:    Revell Publishing
ISBN:  9780800739423
Retail Price:  $17.99
From the Publisher:
If you have ADHD, your brain doesn't work in the same way as a "normal" or neurotypical brain does because it's wired differently. You and others may see this difference in circuitry as somehow wrong or incomplete. It isn't. It does present you with significant challenges like time management, organization skills, forgetfulness, trouble completing tasks, mood swings, and relationship problems.

In Your Brain's Not Broken, Dr. Tamara Rosier explains how ADHD affects every aspect of your life. You'll finally understand why you think, feel, and act the way you do. Dr. Rosier applies her years of coaching others to offer you the critical practical tools that can dramatically improve your life and relationships.

Anyone with ADHD--as well as anyone who lives with or loves someone with ADHD--will find here a compassionate, encouraging guide to living well and with hope.
Save
Save
Save
Save
Save
Save
Save
Save
Save
Save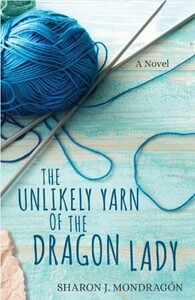 The Unlikely Yarn of the Dragon Lady
(A Novel)
Author: Sharon J. Mondragon
Binding Type:  Paperback
Publisher:    Kregel Publications
ISBN:  9780825447020
Retail Price:  $14.99
From the Publisher:
Margaret, Rose, Jane, and Fran had a good thing going: meet every week in the quiet of their peaceful chapel and knit prayer shawls. No muss, just ministry. That is, until their pastor boots them out of the church in his last-ditch effort to revive the dwindling congregation.

Uptight Margaret isn't having it. Knitting prayer shawls where people can watch is the most ridiculous idea she's ever heard of, and she's heard plenty. Prayer belongs in the church, not out among the heathen masses. How are they supposed to knit holiness into these shawls if they're constantly distracted by the public? But with no choice, the others embrace the challenge. They pack their knitting bags and drag Margaret--grumbling the whole way--to the mall with them. She can't wait to prove them all wrong when it fails miserably, and show the pastor that she always knows best.

Without the familiar mold the group has been stuck in, their own losses, pain, and struggles rise to the surface. And the people and situations they encounter every time they try to sit quietly and knit are taking them a lot further out of their comfort zone than they ever imagined. Can they find the courage to tackle the increasing number of knotty issues they learn about in the community--or will the tangle be too much to unravel?

Sharon Mondragon's debut is warm and delightful, full of real laughter, grief, and personality. It beautifully illustrates the power of women across generations to reach people for Christ.