Book/DVD Reviews
---
Book Reviews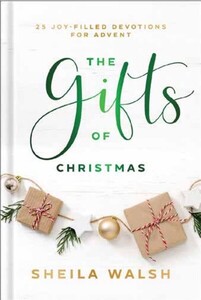 THE GIFTS OF CHRISTMAS: 25 Joy Filled Devotions For Advent
Author: Sheila Walsh
Binding Type:  Hardback
Publisher:   Baker Books
ISBN:  9781540902900
Retail Price:  $19.99
From the Publisher:

Trade Your Weary for Wonder This Christmas Season
· Sheila Walsh's books have sold over 5.5 million copies
· Walsh has more than half a million highly engaged social media followers and growing email list of over 100,000 subscribers
· Sheila reaches a potential viewing audience of 2 billion each day on TBN, America's number one faith and family network
When you think of Christmas, what do you see? Glittering lights, decked-out trees, brightly wrapped gifts, a tightly packed schedule? Look closer. What do you hear? Ringing bells, familiar carols, Mariah Carey on an endless loop at the grocery store? Listen harder. In a season that is busy and bustling, there is a deeper, softer, quieter truth that we too often miss in the mayhem. God in our midst. God with us. The greatest gift. The only reason for the season. And the source of all our joy.
If you've been feeling overwhelmed and exhausted by what Christmas has become, this beautiful Advent devotional will refresh your faith, reactivate your wonder, and restore your joy. With stories of simple Christmases past, inspiration from Scripture, and pearls of wisdom from beloved author Sheila Walsh, The Gifts of Christmas offers you grace, peace, hope, and a sense of expectation for what truly can be the most wonderful time of the year.

THE FIVE MARKS OF A MAN: Finding Your Path to COURAGEOUS MANHOOD
Author: Brian Tome
Binding Type:  Paperback
Publisher:    Baker Books
ISBN:  9781540903129
Retail Price:  $17.99 
From the Publisher:

Discover the Path to a True Manhood That Honors God
· First edition of this book sold more than 30,000 copies
· Author has a social media following of nearly 700,000
· Author is the pastor of Crossroads Church in Cincinnati, with more than 30,000 members
A boy doesn't automatically become a man at age 18. What differentiates a man from a boy is the way he lives. A boy lives day to day, wants to be MVP, plays, wants the reassurance of the crowd, and is a predator. A man has a vision for his life, is a team player, works, has the courage to take a minority position, and is a protector. These are the five marks of a man. It's not enough to just know them. A real man aggressively pursues them on a daily basis.
Drawing from his own experience and the lives of others, pastor Brian Tome calls on men to examine themselves and take steps in the direction of a fully realized manhood that honors God, respects women, elevates others, and works purposefully for an end greater than their own satisfaction or pleasure. It's time for men to step into their honorable place in the world and lean into a new reality--one defined by strength, purpose, and honor.

YOU CAN PRAY BIG THINGS
Author: Julia Jeffress Sadler
Binding Type:  Hardback
Publisher:  Baker Books
ISBN: 9781540900494
Retail Price:  $17.99
From the Publisher:
Empowering the Littlest Believers to Trust in Our Big God
· Clear, Scripture-based teaching that encourages children to pray
· Book will be promoted on the national radio program Pathway to Victory
· This book will be promoted through the 16,000- member First Baptist Church of Dallas
Christian parents and grandparents want to teach their children to pray with joy and expectation. What better way to make prayer fun, natural, and meaningful than to start with a vividly illustrated picture book to bring vital biblical concepts--like salvation--to life?
You Can Pray Big Things encourages children ages 3-8 to pray big prayers to their even bigger God. Combining clear, biblical teaching about prayer, inspiring quotes, engaging illustrations, and simple prayers children can pray alone or with a loved one, this accessible book helps kids start a lifelong conversation with God. It even helps them understand what to do when it seems like God hasn't answered their prayers, and how to pray to receive Christ. Praying to God should be a fun and frequent part of every kid's life. You Can Pray Big Things shows kids how to do it and helps parents start important spiritual conversations in their home.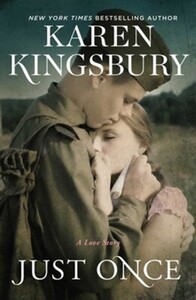 SEEING AS JESUS SEES: How a New Perspective Can Defeat the Darkness and Awaken Joy
Author: Karen Kingsbury
Binding Type:  Hardback
Publisher:   ATRIA Books
ISBN:  9781982104443
Retail Price:  $27.99
From the Publisher:
The #1 New York Times bestselling author "known for her deeply heartfelt novels" (Woman's World) writes a sweeping World War II love story about a young woman torn between two brothers.
In 1941, beautiful Irvel Holland is too focused on her secret to take much notice of the war raging overseas. She's dating Sam but in love with his younger brother, Hank—her longtime best friend—and Irvel has no idea how to break the news. Then the unthinkable happens—Pearl Harbor is attacked. With their lives turned upside down overnight, Sam is drafted and convinces Hank to remain in Indiana, where he and Irvel take up the battle on the home front.
While Sam fights in Europe, an undeniable chemistry builds between Irvel and Hank but neither would dare cross that line. Then, two military leaders pay Irvel a visit at the classroom where she teaches. The men have plans for her, a proposition to join a new spy network. One catch: She can tell no one.
With Irvel caught between two brothers thousands of miles apart, can love find a way, even from the ashes of the greatest heartbreak?

YOUR NEXT STEP OF FAITH: How to Hear God's Voice and Boldly Follow
Author: Shane Winnings
Binding Type:  Paperback
Publisher:    Chosen/Baker Publishing Group
ISBN:  9780800763411
Retail Price:  $17.99
From the Publisher: 

Live Fearless in a World Dominated by Fear
In the space of just nineteen days, former Army Special Forces officer and police officer Shane Winnings went from a public, six-figure career to an unpaid, full-time missionary position across the country. His story exploded across social media, and to this day he reaches millions each week with his audacious daily encouragement to be a light in a dark world.
Showing how hearing God's voice changes the trajectory of your entire life, Shane infuses you with courage to cast off the world's crushing expectations and go all in for Christ. Through incredible testimonies and real-world application, he empowers you to
· say yes to Jesus
· tune into His voice
· press through your fears and anxiety
· boldly follow where God leads
· take faith-filled risks
You can have a life of incredible adventures, lifesaving protection, and improbable peace. Take your next leap of faith--and never look back.

Author Bio:
Shane Winnings is a military veteran, a former law enforcement officer, and a Spirit-filled evangelist. He serves as the president of Overcomers Inc., hosts the top-ranked Pursuing Jesus podcast, and reaches millions through his YouTube channel every week. Learn more at shanewinnings.com.
Save
Save
Save
Save
Save
Save
Save
Save
Save
Save

A DAY'S JOURNEY: Stories of Hope and Death-Defying Joy
Author: Tim Keesee
Binding Type:  Paperback
Publisher:  Bethany House
ISBN:  9780764241741
Retail Price:  $16.99
From the Publisher:
How do you make each day of your brief life count?
Tim Keesee spent years crisscrossing the globe, documenting the gospel's advance in regions of war and persecution through his writing and films. But double blows from terminal cancer diagnoses in 2019 and 2021 brought his travels to a halt.
In A Day's Journey, Tim takes up his pen to write dispatches from a smaller, more intimate world. He writes of Christian brothers and sisters who have taught him so much about a day well spent: the way they work and worship, the way they pray and sing, the way they love their neighbors and their enemies, even when beaten black and blue for the sake of Christ.
In this book you'll have the privilege to walk with Tim through days of pain and hard questions, but also days of grace, wonder, and death-defying joy. Poignant, inspiring, and beautifully written, these stories model the courage we need, the joy we have, the gospel we love, the cross we bear, and the hope we embrace until faith becomes sight.