Book/DVD Reviews
---
Book Reviews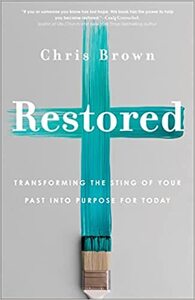 Restored: Transforming the Sting of Your Past into Purpose for Today
Author: Chris Brown
Binding Type:  Hardback
Publisher:    Revell
ISBN:  978-0-8007-4043-6
Retail Price:  $19.99
From the Publisher:

Imagine a world in which every person's pain makes them better not bitter, kind rather than angry, and selfless instead of greedy and insecure. There is messiness in each of our stories, but we can use that mess intentionally to craft a life that points to God and proclaims his glory.
In Restored, prominent pastor and speaker Chris Brown recounts some of the extraordinary tragedies and trials he has experienced, including homelessness, violence, abuse, drugs, and the loss of loved ones. Reflecting on these difficult times in his own story, Chris shares his hard-won countercultural perspective on pain, offering practical tips to inspire those of us who feel disqualified or discouraged by our circumstances.
No matter how messy it was, our past is a gift because it paves the way for us to develop the unique Christ-honoring message the world needs us to share.

No Turning Back 
Author: Rashawn Copeland
Binding Type:  Paperback
Publisher:    Baker Books
ISBN:  978-1-5409-0012-8
Retail Price:  $16.99:
From the Publisher:

For many of us, believing in Jesus feels like the first step on a journey that can only get better and better with every step. Then trials come and it can be hard to keep walking. When faced with disappointment, disillusionment, doubt, and death, we may be tempted to turn back. The road ahead seems too hard, too long, too fraught with danger and difficulty.
With great passion and deep understanding of the struggles believers go through, Rashawn Copeland encourages and inspires you to stay the course. In No Turning Back he shares practical and productive ways you can experience true and lasting growth based on the promises God makes to those who follow him. He shows you how to apply the truths of Scripture to be transformed by God's power, grow your identity in Christ, renew your mind, free yourself from your past, and become the person God has called you to be.

Are You Being Robbed? 8 Essential Keys to Reclaim Your God Given Purpose
Author: Eric B. Euren
Binding Type:  Paperback
Publisher:    Trilogy Christian Publishers
ISBN:  978-1-68556-167-3
Retail Price:  $19.99
From the Publisher:

Now is the time to end thievery and walk in your God given purpose!
The world is changing at an alarming rate, and hostility toward Christians and godly principles is increasing. As believers there are many blessings and promises God has made available to us, yet many Christians are still living life being robbed. The need for strategic training is now! This book will help equip Christians for what is looming on the horizon.
Our adversary is a master thief that is hard at work, but God has given us keys to end this robbery. In Are You Being Robbed?, EricEurēn explains these biblical keys which will equip us to do combat with the adversary, putting an end to his thievery. With Bible knowledge and spiritual insight he will explain the eight key principles:
Your Identity in Christ
*The Will of God
*The Holy Spirit
*The Five Callings
*Hearing God's Voice
*How Not to Be Deceived
*Knowing the Shepherd
*The Blood of Christ and Our Testimony

Don't wait to walk in God's promises until it becomes a necessity for survival. Take up the challenge now and be a light and a blessing in this fallen world!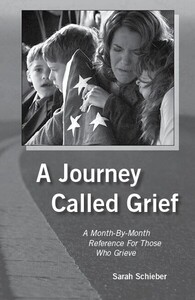 A Journey Called Grief: A Month-By-Month Reference For Those Who Grieve
Author: Sarah Schieber
Binding Type:  Paperback
Publisher:    Book Baby
ISBN:  978-1-66780-599-3
Retail Price:  $15.00
From the Publisher:
Sarah Schieber is a speaker, author, singer/songwriter and worship leader. In 2007, poised to make her national debut of her first solo album, Gratitude, and on the cusp of a national marriage ministry with her beloved husband, Sarah's life took a tragic turn. On October 7, the hopes and dreams of Sarah's heart were shattered when Chad collapsed and died in mile 18 of the Chicago Marathon, at the young age of 35. Right there on the streets of south Chicago Sarah found herself to be a 33-year-old widow and the single mama to three young children.
Sarah has the ability to reach into the circumstances of her life and translate her experiences into deep encouragement for all believers. Over the past almost fifteen years Sarah has written and produced three full length albums and had the honor of recording the song Christmas in Heaven which charted on both the National Christian Radio charts and Billboard. Sarah has enjoyed a successful Christian radio career and has toured nationally and internationally, equipping and encouraging believers through her music and stories. Using her gifting of poignant perception – her ability to look past the surface of her life and wrestle out her faith and the truth of who God is – with this book, Sarah is set to encourage in a whole new way!

Tinder Tattoos and Tequila: Navigating the Gray Areas of Life
Author: Bradley Truman Noel
Binding Type:  Paperback
Publisher:    Wittaker House
ISBN:  978-1-64123-830-4
Retail Price:  $16.99
From the Publisher:

HOLDING FAST TO FAITH IN THE GRAY AREAS OF LIFE
Should a Christian use Tinder…get a tattoo…or drink shots of tequila? Anyone who wants to live a life of grace needs to navigate the world's gray lifestyle choices that may not be wrong, but could lead to sin.

"The church has been plagued by two extremes when it comes to living a Christian lifestyle," says author Bradley Truman Noel. "On one side, we have the serious folks adorned with a really impressive frown, who remind us of all the do's and don'ts.…On the other end of the spectrum are folks who play fast and loose with the rules. They typically don't spend too much time thinking about holiness, or wondering if their actions align with biblical teaching." Both sides, Bradley says, miss the power of God's grace in our lives.

In Tinder, Tattoos, and Tequila, you will discover:
*What's sinful and what's permissible
*Scriptural absolutes that apply to all believers
*Why we should be eager to be holy in this life
*How to navigate social media and video games
*Biblical principles that can guide every decision
*Ways to receive help from the Holy Spirit
The balance between understanding the law and practicing grace

Don't let the world's endless choices keep you from living the life of grace that God has for you!
Save
Save
Save
Save
Save
Save
Save
Save
Save
Save

The Counterfeit Climax
Author: Dave and Ashley Willis
Binding Type:  Hardback
Publisher:   XO Publishing
ISBN:  978-1-950113-68-2
Retail Price:  $24.99
From the Publisher:

Every sexual mindset, habit, or experience pursued by false beliefs is a "counterfeit climax" in the making, and they could be sabotaging the level of intimacy you are experiencing with your spouse right now. Deep-rooted insecurity from harsh teachings you may have learned about sex or unseen habits like pornography are leading factors to sexual dissatisfaction and false sexual expectations. It's one thing to discover these hurts, but it's an entirely different undertaking to talk about it with your spouse in a healthy way.
With Dave and Ashley's trusted advice and compassion, including their own transparent stories, The Counterfeit Climax is written for anyone who is single and working through painful experiences, engaged and learning about their significant other, or married and desiring to restore or deepen intimacy with their spouse. Each chapter will help guide you through talking about your sexual burdens so that you can find freedom and pleasure within your marriage. It's time to confront all the lies the world has fed us about sex, romance, and relationships and pursue God's design for the most fulfilling marriage and sex life.