Community Calendar
---
Back to Community Calendar
Sep
29
2023
12:00 AM
to 11:00 PM
Go Gold - Pajama Day Yuma County
Events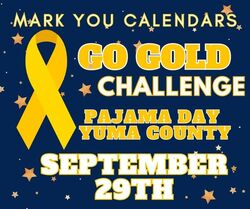 Join us in Going Gold the entire month of September in honor of all of Yuma's Little Warriors who have or are currently battling childhood cancer!
We will wrap up the month with Pajama Day Yuma County on Friday September 29th.
We encourage everyone to wear their pajama's to school, work, and all activities that you do on September 29th in honor of all the Little Warriors, who have spent countless number of hours in their pajama's when they undergo their cancer treatments.
#gogold #pjday2023 #childhoodcancerawareness