Community Calendar
---
Back to Community Calendar
May
27
2023
7:00 AM
to 10:00 AM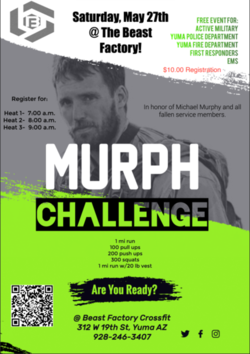 The Murph Challenge is in honor of Michael Murphy and all fallen service members. Proceeds go to Murphy Scholarship Foundation.
This event will be taking place Saturday May 27th
at Beast Factory Crossfit
312 W. 19th St
Registration is only $10 and includes the cover for food and the event.
Heat 1 - 7:00am
Heat 2 - 8:00am
Heat 3- 9:00am
The Murph Challenge is a Crossfit challenge:
1 Mile run
100 Pull ups
200 Push ups
300 Squats
finishing up with a 1 Mile run w/20lb vest just like Lt. Murphy wore.

50% off registration for:
Active Military
YPD
YCSO
YFD
First Responders
EMS
For More information call (928)246-3407