Community Calendar
---
Back to Community Calendar
Oct
4
2022
12:00 AM
to 12:00 AM
National Pro-Life T-Shirt Day
Events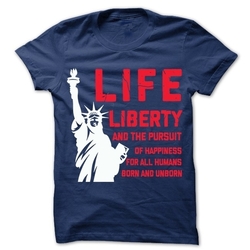 National Pro-Life T-Shirt Day is coming around again, on Tuesday October 4th. Those who don pro-life shirts are urged to share photos of themselves on social media to help spread recognition of this unique effort on behalf of the unborn. Use the hashtags #prolife and #prolifetshirtday.
National Pro-Life T-Shirt Day fall date is set for Oct. 4.
National Pro-Life T-Shirt Day started in 1993 as a way to encourage pro-life youth. In 2021 a new t-shirt design was issued - a silhouette of the Statue of Liberty and the message "Life Liberty and the Pursuit of Happiness for All Humans Born and Unborn." That shirt is still in stock along with several other shirts. See them all at ProLifeProducts.org.
Priests for Life is the world's largest Catholic pro-life organization dedicated exclusively to ending abortion. For more information, visit www.EndAbortion.US.