Artists
---
A B C D E F G H I J K L M N O P Q R S T U V W X Y Z
S

Sanctus Real
CHANGE, PARTICULARLY UNEXPECTED CHANGE, CAN SOMETIMES BE A FOUNDATIONAL CRACK THAT CAUSES THE WHOLE STRUCTURE TO COME TUMBLING DOWN. SURVIVAL, IT TURNS OUT, DEPENDS ON WHAT YOU DO WITH THE RUBBLE. AFTER 20 YEARS OF TOURING, 24 RADIO HITS AND FULL ALBUM SALES EXCEEDING 750,000, SANCTUS REAL CEMENTED ITSELF AS A TRUSTED BRAND IN CHRISTIAN MUSIC. BUT IN 2016, ORIGINAL MEMBERS MARK GRAALMAN AND CHRIS ROHMAN EXPERIENCED A WINDFALL OF CHANGE THAT SHOOK THE FOUNDATION OF EVERYTHING THEY HAD BUILT. THEY PARTED WAYS WITH THEIR LONGTIME LABEL PARTNER, THEIR BOOKING AGENT, AND CLOSE FRIEND AND LEAD SINGER, MATT HAMMITT, LEFT THE BAND TO SPEND MORE TIME WITH HIS FAMILY. 
"WE STARTED THIS BAND IN OUR PARENTS' BASEMENT AND NEVER KNEW WE'D GET THIS FAR," SHARES ROHMAN. "WHEN MATT LEFT, MARK AND I JUST STARTED PRAYING AND WAITING TO SEE WHAT GOD HAD PLANNED FOR US." 
ENTER DUSTIN LOLLI, SANCTUS REAL'S NEW LEAD SINGER AND CREATIVE INFLUENCE. WHEN LOLLI MET GRAALMAN AND ROHMAN, HE WAS WORKING AS A FULL-TIME WORSHIP LEADER IN MICHIGAN AND PERFORMING IN A FOLK DUO WITH HIS WIFE. 
"WE IMMEDIATELY LOVED DUSTIN'S APPROACH TO SONGWRITING AND LYRIC STRUCTURE," SAYS GRAALMAN, "AND KNEW HE COULD BE A REFRESHING ADDITION TO THE BAND." 
FOR LOLLI, THE DECISION TO JOIN SANCTUS REAL SEEMED LIKE AN EASY ONE, BUT GETTING TO KNOW THE HEART OF THE BAND TIPPED THE SCALES. "I SAW IN THESE GUYS A REAL FOCUS TO WRITE SONGS THAT MOVE PEOPLE TOWARD AN UNDERSTANDING OF THEIR IDENTITY IN CHRIST. THEY'VE BUILT AN AMAZING PLATFORM TO BE ABLE TO SHARE GOD'S LOVE AND I KNEW I WANTED TO BE A PART OF THAT." 
WITH A NEW LEAD SINGER IN PLACE, THE TRIO BEGAN WRITING SONGS FOR CHANGED, THEIR FIRST ALBUM TOGETHER. LOLLI'S SOULFUL VOCALS ARE NOTICEABLY DIFFERENT FROM THE BAND'S ORIGINAL SOUND, BUT THE FOCUS OF THE MUSIC REMAINS - HOPE FOUND IN AN UNCHANGING SAVIOR. WHILE THE NEW SONGS ARE CERTAINLY INFLUENCED BY THE OUTWARD CHANGES THE BAND HAS EXPERIENCED, THE MESSAGE IS CENTERED ON HOW CHANGE CAN BRING ABOUT PERSONAL REDEMPTION. LIFE IS, WHETHER GOOD OR BAD, A SERIES OF UNEXPECTED MOMENTS. WITH CHANGED, THE BAND COMMUNICATES THAT NOTHING'S EVER A LOST CAUSE IN THE KINGDOM OF HEAVEN. STRIPPING AWAY WHAT WAS AND GETTING DOWN TO THE ONE THING THAT MATTERS HAS GIVEN THE BAND A NEW VOICE AND SOLIDIFIED THE PURPOSE BEHIND IT. 
"WE'RE A GROUP OF GUYS MAKING MUSIC TOGETHER AS OPPOSED TO A GROUP OF GUYS GETTING BEHIND A SONG. WE'RE FOCUSING BACK ON THE SIMPLE MESSAGE OF THE GOSPEL," SAYS GRAALMAN. "IT'S THE SIMPLE MESSAGE OF GOD'S LOVE." 
WITH A SHIFT IN FOCUS AND A NEW LEAD SINGER, THE NEXT SEASON FOR THE BAND IS A CLEAN SLATE, A TRANSITION, A REBIRTH OF THE ORIGINAL VISION FOR MAKING MUSIC TOGETHER. IN THE MIDST OF THAT REBIRTH, SANCTUS REAL IS DISCOVERING WHEN YOU FOCUS ON WHAT MATTERS, YOU OPEN YOURSELF UP TO EVEN MORE POSSIBILITY.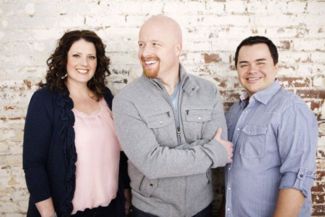 Selah
Unmatched talent, a passion for ministry and a deep love for the Church—for 20 years these have been constants for the musical tour de force known as Selah. Amassing more than 4 million units in sales; eight Gospel Music Association Dove Awards; a Gold-certified album and eight #1 singles, the group's signature hits include "You Raise Me Up" and "Wonderful, Merciful Savior." Todd Smith, Allan Hall and Amy Perry have together graced the stage of Nashville's historic Ryman Auditorium and the Grand Ole Opry, all the while carrying a message of hope and healing for those who pause and listen. True to form, Selah's first all-new recording in nearly three years, Unbreakable, is hallmarked by the beloved trio's down-to-earth realness, soaring harmonies and unforgettable arrangements.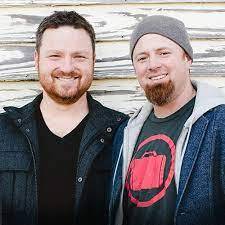 Shane & Shane  
Shane & Shane is the combination of solo artists Shane Barnard and Shane Everett. After meeting in college, Shane & Shane began writing songs and touring the country leading worship. Over 15 years later, they're writing more music than ever, with no intention of slowing down. Their desire has always been to glorify the Lord instead of themselves and they do so by writing music that is biblically based, lyrically rich, and sonically engaging. Check out their discography! 
Over the past few years, Shane & Shane have dedicated their lives to encourage and equip worship leaders and their teams through an online resource called The Worship Initiative. The Worship Initiative is an equipping ministry and a collective of worship leaders that, over the past few years, has grown into a thriving community in and of itself.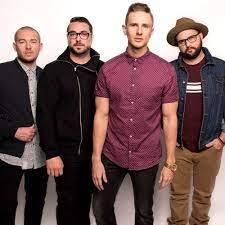 Stars Go Dim
Formed in 2007 as a mainstream pop band, today Stars Go Dim is the moniker for Christian pop artist and songwriter Chris Cleveland. After years at the helm of an acclaimed independent secular band and more than a decade leading worship at Tulsa's Asbury United Methodist Church—one of America's largest congregations—Cleveland found success in the Christian format with his self-titled debut album. The singer has garnered three Top 5 hits and a massive No. 1 radio smash with "You Are Loved." In addition, Stars Go Dim has toured with for KING & COUNTRY, Lauren Daigle and Phil Wickham, among others, and has been featured on the Winter Jam Tour Spectacular. Poised to release new music throughout 2018, Stars Go Dim's latest single, "Heaven On Earth," is available now at all digital service providers.
---
T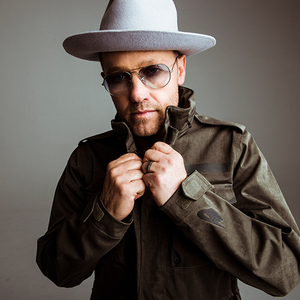 TobyMac
Processing life as an artist, husband and father of five has continually fueled his work and made TobyMac one of the most successful innovators in any genre of music with 7 GRAMMY® Awards, 6 Gold Records from his solo career, an American Music award, twice named Artist of the year at the Dove awards, BMI songwriter of the year and numerous other accolades to his credit. "I just need U.," the lead single from The Elements, spent 12 weeks at the top of the charts making it the fastest charting single of his career. "I knew it was something fresh for me from a lyrical standpoint," he says. "I knew it was intriguing and said exactly what I wanted to say. There's depth and maturity to it. At some point, you have to look up and say, 'If I'm not offering people some wisdom from the journey that I've been on, then I might as well hang up the cleats.' It's my responsibility to offer people wisdom from the road I've traveled. That's what I'm supposed to do. I have to depth to offer right now."
TobyMac admits that in the past he's been "the king of the features," as he usually includes multiple special guests on his albums, but The Elements is different. "I do truly love collaboration," he says, "but these songs are so personal, it was hard for me to imagine someone else singing the lyrics."
Among the most personal songs on the record, and one of TobyMac's very favorites, is "Scars." "I love 'Scars.' It is a different melody for me. It was kind of cool to keep it real low key," he says. "It's the closest song to me on the record. I had a few people in mind when I wrote it, but subconsciously I started focusing on my first-born son. For the first time in my life I found myself sending ships of out the harbor … up to now our family and home have been the harbor. The people I love the most are going out there facing all the pain, struggle and temptation this crazy world brings. It can be so hard to watch. I'm very aware of the scars that come with life's journey but sometimes we insulate those from our children—so to see them go out and there and do this real world is painful. I wanted to let him know that I'm here for him and even bigger than that, God is there for him. You are not alone—so lift your head up my son—to where your help comes from."
---
U
---
V
---
W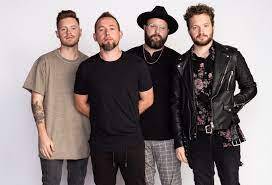 We Are Messengers
The acclaimed Irish American band We Are Messengers are a rag tag group of friends consisting of Darren Mulligan (lead vocals), Kyle Williams (guitar), Drew Kerxton (drums) and Raul Aguilar (bass) who still believe that it's possible to change the world. The band identify with the hurting, the outsider and the underdog, and offer songs like an olive branch to society's marginalized. They have captivated audiences across the world with a live show that is as gritty and rowdy as it is tender and connective. We Are Messengers' blue-collar work ethic and unfiltered honesty are front and center on Power (Curb | Word Entertainment) - an album worthy of its name.
Mulligan and Williams self-produced the record and co-wrote the majority of Power's 12 tracks, recording the project entirely on the road. "It was a really unconventional way of writing a record, but what's super cool is that these songs were written and tracked as we felt things deeply and they are still so fresh to us," Mulligan shares. "Everything about the process felt organic and unforced. We've written the most honest songs we can for human beings, telling stories about our messy lives and about how God meets us in our humanity.
Power's dozen tracks are as diverse as the band's fanbase. From the Gospel-charged title track and reggae-inflected "Love," to the Irish lilt of "Home" and the message of self-acceptance found on the  number one radio single "Maybe It's Ok," the album uses a spectrum of sonic textures woven together lyrically by the one thread that sets We Are Messengers apart from other bands: their uncanny ability to speak the truth in love.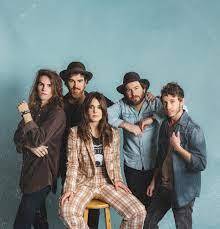 We The Kingdom
Every artist's career begins with a dream. Sometimes dreams are promised and quickly fulfilled. Other times, dreams are planted—rooted deep in the soil of our hearts, needing to be watered and cultivated, so that at the proper time, they can bear fruit.  We The Kingdom is the fruit of a planted dream. A dream that not even the group's five members could have seen coming.  
The multi-generational family band—consisting of brothers Ed Cash and Scott Cash, Ed's daughter Franni, his son Martin and dear friend Andrew Bergthold—grew roots when the Cash brothers were just kids. Their dad played guitar, and their mom played piano, resulting in a home filled with music. Despite there being an eleven year age gap between them, as both Ed and Scott entered their teens and early 20s, they embarked on similar individual journeys as touring artists and had the opportunity to be deeply involved in the ministry of Young Life. However, when they each became fathers, the dream of being an artist was relegated to put on the back burner. Instead, behind the scenes, Ed went on to become an award-winning songwriter and producer, steering records for artists like Chris Tomlin, Crowder and Bethel Music and co-writing timeless songs like "How Great Is Our God,""Amen (Because He Lives)"  and "All My Hope," among other hits. After stepping off of the road to spend more time with his  growing family, Scott began working with Ed writing and producing, and the brothers have written many songs together including "Whom Shall I Fear (God of Angel Armies)". Though no longer pursuing careers as artists, both brothers continued to lead worship and remained involved in playing music at Young Life camps. 
They never could have imagined how, years later, God would bring their artist dreams full circle in the form of a family band. "I think many producers are, in some way, closet artists," Ed attests. Andrew, Franni and Martin were also aspiring musicians, passionate about sharing their gifts through songs and stories. 
---
X
---
Y
---
Z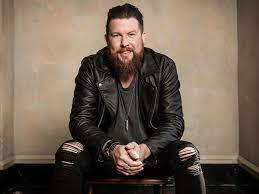 Zack Williams
Zach Williams' powerful and poignant journey spans how a boy with a storybook childhood filled with wonderfully nurturing parents, a strong and supportive grounding in the church, and a warm and loving local community was seduced away by the illusion of rock stardom, and the drug and alcohol excesses that can so often accompany that lifestyle.
These days, the Jonesboro, Arkansas-raised and currently Nashville, Tennessee-based artist is a renewed man. He's a husband, a father, and has also become one of CCM's leading artists and songwriters by carving a niche with his singular blend of southern rock, country, and faith-filled songwriting, which quickly awarded him his first GRAMMY Award® with his debut album, 2017's Chain Breaker. With two additional GRAMMY nods among numerous other accolades, he now returns to share his boldly vulnerable and hope-filled sophomore album, aptly titled Rescue Story.
Zach's music pulls from the hard luck truths of outlaw country, the dirt-road grit of southern rock, the contemporary roots music of alt-country artists, and a firm grounding in classic and contemporary Christian artists that stretches back to his dad's old Petra records. His songs enlighten and uplift, revealing powerful transformative moments and stirring affirmations to stay on God's path.
---
A B C D E F G H I J K L M N O P Q R S T U V W X Y Z